<![if !vml]>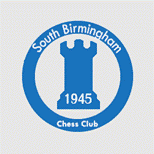 <![endif]>SOUTH BIRMINGHAM CHESS CLUB News 2019-20-21-22
Older news can be found in the Archive section
March 2023
The Eight South Birmingham teams in the Birmingham & District League have acquitted themselves quite well over the last six months; none of the teams will be relegated this season while promotion is still possible for four of them.
The top team have played all but one of their games in Division one and may still yet finish in the top three, In Division two all three teams are safe and the B Team currently Joint Second could be in a Promotion play off,
In Division Three Promotion is still a possibility with three games left to play, a remarkable achievement considering they are virtually the lowest graded team. In Division four promotions again is possible with one game left against the top side.
Division five lie in third place and still have a five games left, but have some good players to call upon.
<![if !vml]>

<![endif]>
14th March 2023
10 second League Lightning Team Tournament
This year's 10 second League Lightning tournament took place, again at Olton Chess Club; there were three sections of four teams playing a double round making 6 rounds in all.
South Birmingham A consisting of Jon Swindells. Richard Mycroft, Patrick Duncan, Pelle Larsen, won Section A,  the thirteenth time , South Birmingham C  Consisting of Matt Little,  Cloudio Vaduva, Sebastian Tudor, Steve Edwards, won section B the twelfth time a SBCC team has won this, and South Birmingham D finished Runners up in Section C, Derek Green, Derek Stockhall, Kacper Sikorski, Paul Heeney.
Full Section results
Section A
1) South Birmingham A 17 pts (Taking the Championship)
2) Mutual A 14 pts
3) Olton A 9.5 pts
4) South Birmingham B 8 pts
Section B
1) South Birmingham C 15 pts
=2) Mutual B 12 pts
=2) Sutton Coldfield A 12 pts
4) Solihull A 9 pts
Section C
1) Olton B 16 pts
2) South Birmingham D 13.5 pts
3) Solihull B 13 pts
4) Sutton Coldfield B 5.5 pts
<![if !vml]>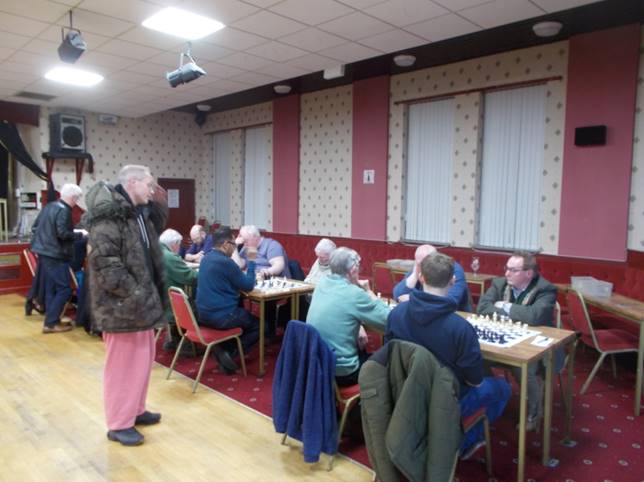 <![endif]>  <![if !vml]>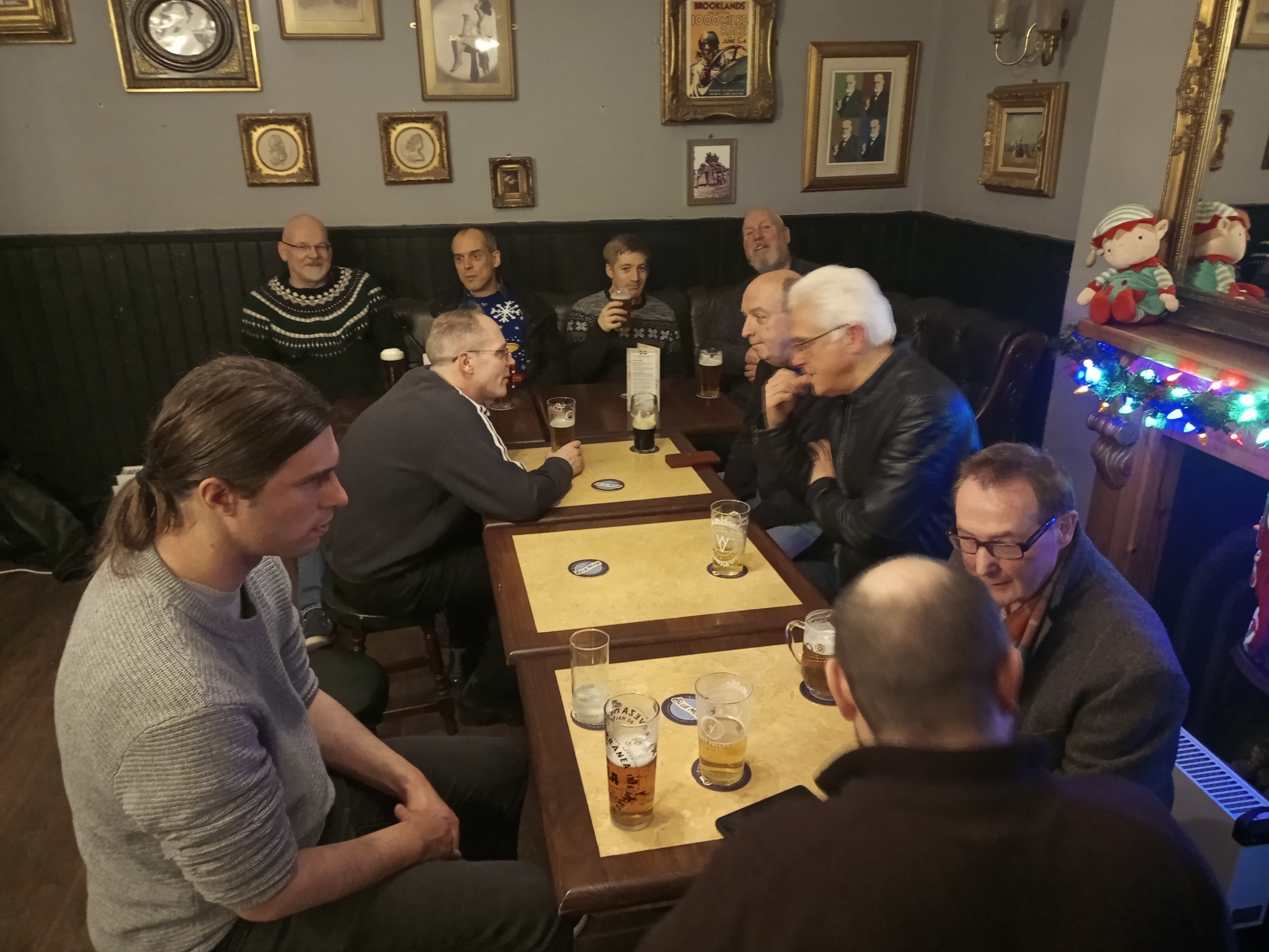 <![endif]>
15/Nov 22
While Woolly and his happy gang were giving Mutual 3 a good bashing last night, our eighth team (division 5) were making their way over to Great Barr to play against Kynoch's first team who are in division 4 . Those of us who had to come through Moseley first had to negotiate the heavy traffic and traffic jams caused by the fire around the corner from the club.
Once we got moving and onto the main road, good progress was made.
We were in the last eight of the Townshend Trophy and we arrived at the venue in good time and were all there for the start of the game.
It was a five board match and because we we playing a team one division higher, we had a half point start.
This meant that we needed to draw the match over the board in order to win it.
Our line up was
<![if !supportLists]>1. <![endif]>Chris Moore 1483
<![if !supportLists]>2. <![endif]>Matthew Smith 1416
<![if !supportLists]>3. <![endif]>Javier Castells-Gil 1400 E
<![if !supportLists]>4. <![endif]>Luke Lambert 1400 E
<![if !supportLists]>5. <![endif]>Kacper Sikorski 1050 E
The opposition had their five strongest players to play against us and were headed by Larry Wright who is a strong player and was in my team when I was captain of Warwickshire.
The division 4 Kynoch team line up was :
<![if !supportLists]>1. <![endif]>Larry Wright 1805
<![if !supportLists]>2. <![endif]>Oliver Green 1568
<![if !supportLists]>3. <![endif]>Waleed Tahir 1526
<![if !supportLists]>4. <![endif]>Stephan Danaher 1525
<![if !supportLists]>5. <![endif]>Dalmar Guleid 1516
It wasn't long before we got our first point. Playing on board 5 Kacper had all his pieces in the right place, managed to force his opponents king out into the centre of the board and
had a mate in only 15 moves. Well done Kacper.
Soon afterwards on board 1 ,Chris who had been a piece down for some time had come under a fierce attack and was unable to hold the position, so the point went to Kynoch.
With the score now level at 1- 1 , we seemed to have good positions on the remaining three boards.
On board 3, Javier played a solid game and soon had the advantage. He turned this into a win and put us in the lead 2 - 1. We now needed half a point to win the match.
On board 4 playing white against a Modern/ Pirc/Robatsch sort of opening , Luke was in attacking mood and had the initiative throughout. All the pieces came off and Luke was left with a rook and four pawns ending against a solitary rook. His opponent saw no hope and resigned. We had now won the match.
On board 2, Matthew was under pressure and went a piece down. It wasn't long before the inevitable happened and Kynoch got the point.
So over all a very satisfactory evening where we won without the help of the handicap and are now in the semi-final.
I am hoping that we are drawn at home in the next round because the other three teams left in the cup are Stourbridge, Redditch, Westminster.
Once again, well done team.
Kynoch-4

Aug

2

3½

Five Star

Aug

Wright, Larry

1805

1

0

Moore, Chris

1483

Green, Oliver

1568

1

0

Smith, Matt

1416

Tahir, Waleed

1526E

0

1

Gil, Javier Castells

1400E

Danaher, Stefan

1525

0

1

Lambert, Luke

1400E

Guleid, Dalmar

1516E

0

1

Sikorski, Kacper

1050E
Terry
15th Nov 22
Mo Knights vs the Tough Ask Terrill Rd 2
Good evening as I write this possibly Morning by the time you Look at it.
Mo Knights were paired against Mutual Circle 1 in the Terrill and although we get 3½ Start for divisional difference it's still a tough ask given the Potential grade difference between the teams.
To make things more difficult I was notified in advance By Joe Brush and Dr Dom that they were not available for this Match, We have one natural replacement with Steve Edwards however Finding a Second may be troublesome, especially with the Div 4 Team also playing later this week. I got in touch with the Club chief negotiator and we managed to get a willing candidate on board 6...so a full team was available. I set out for the club and found all roads into the Moseley Village were blocked by the boys in Blue .. it turns out their was a fire in one of the shops next to the Bohemians pub by the Lights... I managed to go round by driving back towards Kings heath and round via Valentine, Woodfield, Billesley, and Oxford Rd ... at 7.30 we were Three players Short Mo Steve and Derek Domino all coming by bus .. Mutual Agreed to delay the start to 7.45 ..... they had 1 missing... Mathew Harborne, as by magic all appeared bang on 7.45. Yippee were off.......I have to Say What a Utter Joy to Play in the main room and have deafening silence for a change........ I think the main noise was my tummy rumbling.......... now a bit of Chess........ for you the Six boards Started as follows
Board 1 Steve Vs Mathew Harborne
d4. Nf6

Nf3. c5

e3

..

e6

Bb5 Nf6
Board 2 Mo Vs Luke Boynton
d4. e6

c4. b6

e4. Bb4+
Board 3 Singerman Vs Kyle Reed
c3. d5.

d4. Nf6.

g2. g6.

Bg2 Bg7
Board 4 Domino Vs Mike Hollier

1. e4 d5
2. exd5 Nf6
3. Nc3 Nxd5
4. Nxd5 Qxd5

Board 5 Kitty Vs Chris Evans

1. d4 Nf6
2. Bg6 e6
3. e4 h6
4 Bxf6 Qxf66

Board 6 Willing candidate Vs Hamish Scott

b3 c5

bb2 Nc6

e3 d5

Bb5 Nf6
we did not disgrace ourselves and for the Next 2½ Hours all except one board were still Playing, however as you would expect Mutual started to rack up the points and four out the Five to finish went their way
I was last to finish and in a even game Big girls + R + 4 P each I was doing my best to hang on and tried not to lose, You could Hear Nothing from the 9 other People watching he had refused the draw offer but he was starting to lose position
with time Pressure and in the end I got the Draw ............ so all in all we did not to bad.................. Shame our willing Candidate was not around at the end, I would of brought him a drink but then again he is has School tomorrow...........
MO KNIGHTS 3 .......4½ MUTUAL CIRCLE 1 .......4
Mo Knights 3

Aug

5

4½

Mutual Circle 1

Aug

Edwards, Steve A

1725

0

1

Harborne, Matthew J

2131

Isik, Muhammed Oguz

1668

0

1

Boynton, Luke

2025

Woollaston, Alan T

1659

½

½

Reed, Kyle

1943

Stockhall, Derek A

1549

0

1

Hollier, Mike J

1838

Green, Derek

1579

0

1

Evans, Christopher J

1733

Vaidyanathan, Adithya

1644

1

0

Scott, Hamish W

1450E

<![if !supportMisalignedColumns]>
<![endif]>
Adithya THANK YOU for your Grate 40 Minute VICTORY.....
$ingerman
10th Nov 22
Dudley Boyz 1800 Max
Good evening everyone,
The long wait is over and last night four Southern Brummies Staffy Miles, New Guy (Steve Edwards) Mo and Myself, disguised as the Dudley Boyz, took their place in the First Dudley Match since Jan 2020, our Opponents were Oscott Mike Biddle Kevin Spillane, Phil Jones and new kid Liam O'Connor, We played in the Analysing Room to soften the Music and keep the Rules Secretary happy. everyone was in place for Clock off and hostilities began, as usual I was to engrossed to see the others, so here is mine it was not long before I found I was getting in a unbalance position after my favored knight for Bishop exchange and having castled King side as Black most of my Pieces seemed over to the right of Queen side.. I could see trouble occurring as he lined up Queen backed by Bishop behind a pawn aiming towards my King of course.
. <![if !vml]>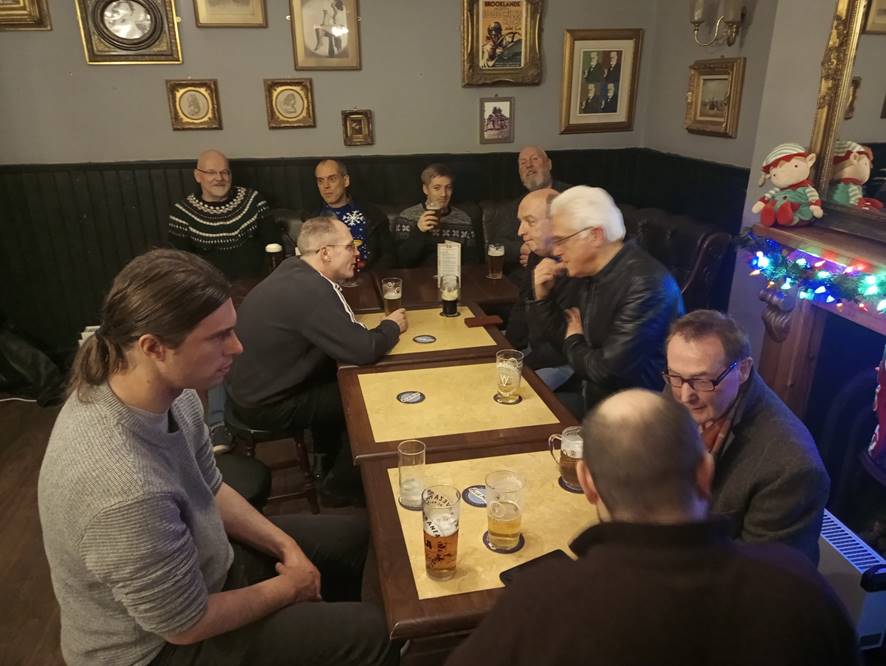 <![endif]>
. This set play for the next hour. I got R for N after Nf4 but he persisted with his threat to try and dislodge everything until his own King side was rocking and eventually we got to this position
<![if !vml]>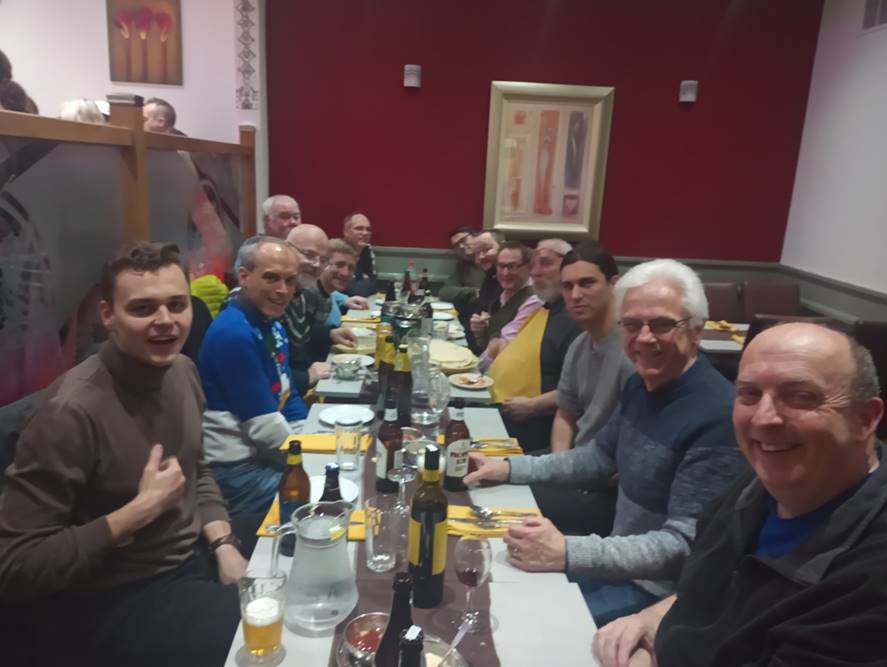 <![endif]>
me Black to Move my Bishop on a7 don't look so bad now mate in Four followed..After Playing Dave Davis, Julian Summerfield and John Stainforth it was good to play a weaker Player...as for the Other Guys.......
Mo was tactically better than Phil and also won reasonably quickly, we were leading 2 - 0 with the other two boards looking even, after some probing of his opponents position Steve agreed a draw on Bd 2 Match Won....
Mike alarm, had tried some tricks with a sac but Mike Biddle has seen it all before and got to B,N +6P Vs R+3P.... I think at the end he was hoping for the Alarm to go off,, so a 2½ - 1½ win gets us off the Blocks... well played Guys and thanks for Playing...
Next Dudley Game AWAY Wednesday 30th November at....... Wolverhampton
SB Dudley Boyz

Sep

2½

1½

Oscott

Sep

Staff Miles

1758

0

1

Mike Biddle

1748

Trucker

1725

½

½

Kevin Spillane

1678

Horologist

1668

1

0

Phil Jones

1480

Singerman

1659

1

0

Liam O'Connor

1498
$ingerman
8th Nov 22
Hello chess players..
⛄⛄2 Cool⛄⛄ vs West Brom Div 2
Tonight our 2c side ventured forth away at a super strong div 2 side, with three players missing… we never stood a chance… so having already used Mo and Steve twice, wanted to save them for a match I felt we could win. So there was only one thing for it.. we'd have to get the band back together. 😂 With Claudio, Bruno, and Ciarán all unavailable.. Singerman, Domino, and Kitty stepped in. If we're gonna get smashed let's at least have a laugh… With the expectation of Ortega on board 1, I did the captains duty and decided to face him.. luckily enough, he heard I was on board one and bottled the match! (Walkers joke to me 😂) The teams lined up as follows…
TC vs Walker
Milenko vs Crump
Seb vs Quereshi
Singerman vs Davies
Domino vs Pincher
Kitty vs Blackhouse
I thought being out graded on every board, it would be I'll case of I'll see you in the bar at half 9.. but that couldn't be further from the truth! At half 9 all games were still very heated.. the first to finish I think was Singerman, around 10 ish.. Singerman played into a good position and was really has holding his own, Blackhouse played a variation of the Pirc defence, and Singerman was equal to it.. the game built and pressure was everywhere… when the fireworks went off and the queens came off the board with a few other pieces, Blackhouse found an intermezzo with check and won a piece I think.. valiant effort by both players 0-1.
The games all tumbled in I'm not sure what order I was too consumed by my game.. but Seb who hasn't lost in the league since he met Jack Moss, I think finished next.. he got to play his French defence but Quereshi knew what he was doing.. Seb said he never had a chance of winning, but was tactically sharp enough to make sure he wasn't going to lose and a draw was agreed. 0.5-1.5.
Domino, who had soldiered his way on public transport arrived late, but still had a very decent position.. Pincher was no mug however and seemed to manoeuvre a small advantage into a larger one.. try as he might Derek couldn't hold it and had to resign.. 0.5-2.5
Milenko was next and had prepared for walker.. but in Ortega's absence had crump. He was able to get a Smith Morra on the board.. he was talking about it earlier that day.. his prep was on the board. He gave the first pawn, then the second, but knew exactly what he was doing. With his pieces active, he was able to win a piece and the match. Truly wonderful on board two. Here is the position he got.. he took the knight 😃. Well done Milenko! 1.5-2.5
I finished next, and after losing on move 7 last week, told myself just get a position... Walker played bishops opening, and I replied with a sort of Phillidor.. He pushed and poked, but I stood stout and try as he might, he couldn't break me. I gave up a pawn, but got the bishop pair and the open file in return.. one of their players said he never gets in time trouble.. but I took him there… with 3 minutes left on the clock, he took the draw I'd been offering… he had the extra pawn, but no way of breaking through. I played as well as Milenko.. 2-3. Hang on we couldn't get something could we? What's kitty doing still playing at half 10?
Kitty was looking good, I couldn't believe it.. Kitty had played a sideline of the scotch and got a very decent position. The game went many moves and kitty fought hard for three hours..all the pieces eventually found their way off the board, he won a piece for two pawns.. entering the endgame bishop and pawn vs three pawns. Then we won the three pawns with the piece.. one problem.. he had an a pawn, and a black bishop. He couldn't get the king out the corner and had to settle for a draw. He played great… you couldn't get any closer to winning but a draw it was. 2.5-3.5.
Really proud of the team we got out tonight.. they were worried at half 10! Nice drink in the bar after.. we play like that a again we'll be fine in div 2.
TC
West Bromwich

Aug

3½

2½

Little Wonders 2C

Aug

Walker, Nicholas A

2071

½

½

Little, Matthew

1678

Crump, John E

1859

0

1

Walner, Milenko

1758

Quraishi, Shahab WA

1855

½

½

Tudor, Sebastian

1725

Davies, Dave M

1729

1

0

Woollaston, Alan T

1659

Pincher, Jonathan P

1726

1

0

Stockhall, Derek A

1549

Backhouse, Derek

1724

½

½

Green, Derek

1579

<![if !supportMisalignedColumns]>
<![endif]>

3 Nov 22
Birmingham 1B v Solihull B
Hello Chess Players,
After losing 5.5-0.5 to a Solihull side which massively outgraded us on every board - their board 5 being higher graded than our board 1! - the 1B side were looking to avenge that defeat against Solihull's B side.
This task was looking pretty tricky as we didn't have a full side by midday on the day of the match. Richard and Faraz are both on paternity leave, and hopefully enjoying being new dads! John Emanuel is now playing for the 1A side having played four games for them, which means that like last season we are fairly stuck for players. Neil and Martin stepped in, and special thanks to TwoCars who answered the distress call at the witching hour and played on board 6.
Terry informed me that one of the reasons it had been difficult to find a reserve was that people were unwilling to get to Solihull by public transport without a lift. What nonsense, I thought, there's a bus straight down from Birmingham city centre to Solihull and a train station only a mile and a half from the venue. It's going to be easy to get to. So I left the Council House at 6.15. By the time I got to the station at 6.27 my shoes were utterly soaked - they are still wet now. At the station, I bumped into John Green who said that three of his players were late because of delays on the train network, so could we delay the match by 15 minutes. I made sure I didn't give a direct response - working in politics has taught me some things at least - and walked to the venue. Where Martin was the last of our team to arrive, because he had had issues with the bus getting to the venue. Maybe those players had a point about public transport after all. Whilst I worried about whether I was going to get trench foot from my soaking wet feet, the match began. I played Ben Larkin, definitely undergraded and a dangerous player. He had prepared 20 moves of theory which I walked slap bang into: 1. e4 c6. 2. d4 d5 3. Nc3 dxe4 4. Nxe4 Nf6 5. Nxf6+ exf6 6. c3 Bd6 7. Bd3 0-0 8. Qc2 Re8+ 9. Ne2 h5 (this is fashionable now, and OK for Black if he knows what he's doing) 10. 0-0 h4 11. h3 Qc7? (apparently Nd7 is best) 12. c4 Be6 13. c5 Bf8 14. Nf4 Bd5 15. Bd2 Nd7 16. Nxd5 cxd5 17. Rfe1 Rxe1+ 18. Rxe1 Rd8 19. Bh7+ Kh8 20. Qf5 g6 21. Bxg6 fxg6 22. Qxg6 (at this point my opponent had only thought for five minutes. I had thought for about 40. And realised I was completely and utterly busted) 22...Nb8 23. Qxf6+ Nb8 24. Qxh4+ Kg8 25. Re7 Qc6 26. Rxg7+ Kxg7 27. Qe7+ (a bit cheeky really) Kg6 28. Qxd8 Nd7 29. Qg8+ 1-0. Suitably chastened, I retreated to the bar and took the opportunity to catch up on some work whilst the match concluded.
On board six, TwoCars got into issues in the opening and lost a pawn and the ability to castle. He put up a decent fight after that but the position proved hard to claw back. 2-0 to Solihull by 9pm.
Neil played a positionally great game against Ray Carpenter, trying to head for a good knight against bad bishop in a Colle structure. Ray is never one to die quietly, and decided to mix things up with an exchange sacrifice. This didn't work and Neil took the point.
Martin also beat Tony Sadler on board five, winning a pawn and converting the ending. That left Elis and Imogen to finish. Elis had played a Tromp and ended up in an endgame where her opponent just shaded her. Elis is off next week to play in the European Schools Championship and I'm sure we'd all like to wish her the very best of luck! Imogen was black in a Stonewall Dutch which turned into a very wild position. A draw seemed like a fair result.
So sadly a narrow 3.5-2.5 defeat. Rather than catch a bus back to Cotteridge, I hitched a lift with TwoCars who is owed a pint for his heroics next time our paths cross at the club.
Our next match is on Tuesday against Halesowen, where we will be hoping for our first win of the season.
Cory
27th Oct 22
HUGE WIN AT CHAMPIONS SOLIHULL!
Hi All,
We were at full strength last night for our visit to Solihull and although missing their BIG GUNS from last season, they were still strong.
It was a busy night with at least 3 matches at their venue and a lot of interest in this Division 1 encounter with people coming to see what was going on.
John Pitcher 2286 was black against a Kings Indian Attack v Oscar Pollock 2246. He was first to finish after a controlled game saw him bring the 1st point to the ALPHAS.
Second to finish was Patrick Duncan 2100 v B Larkin 2092...A b3 opening with Patrick having his king on its original square defending the knight on d2. He played Ke2 to connect the rooks and I didn't see what happened but 1-1 after 2 games.
Not long after, it was 2-1 to Solihull with John Emanuel 1964 v Andrew McCumiskey 2093 finishing...A Queens pawn opening saw both players advancing on opposite sides of the board which saw Andrew gaining a winning attack.
'The Alphas Strike Back'... Sounds like a Star Wars Film... with Pelle Larsen 2198 winning in an English Opening v Frédéric Rocca 2196.
So, 2-2 with boards 3 and 6 playing and Bernard defending a ending a pawn down and yours truly with an unbalanced 3 pawns for a piece amongst other pieces on the board.
I 2056, was playing against 13 years old Rohan Pal 1991, a former under 9 British Champion I found out afterwards. The game was a Sicilian 1.e4 c5 2.Nf3 Nc6 in which I played 3.Bb5 on the spur of the moment.
I had a lapse later in what's becoming a regular occurrence recently... I didn't analyse a black reply which meant a piece was trapped... I gave up 2 pieces for a rook and a pawn and later gave a rook up for a bishop and 2 pawns.
The ending was a Queen, Rook, Knight and 6 pawns v Queen, Rook, Bishop, Knight and 3 pawns. My extra pawns helped to win the game with Queening threats... 3-2
Bernard Chan 2121 v Alan Agnew 2180 saw Bernard hold the pawn down ending in an exciting finish to an incredible battle between last seasons top 2 teams.
This win sees us top with 6 pts from 4 ga and Lichfield away next week.
Kevin Hurney
25th Oct 22
Mo Knights 3
Just a few lines to say ....After our Win Against Stourbridge 2 in the Terrill Trophy we lost at home to Olton A 3½ - 2½ then the following week we lost 4½ - 1½ to Rushall, we were out graded by over a 1000 in the Rushall match
Full marks to Derek Stockhall aka Domino for getting to Rushall by two buses and a Train.... you can also see their unknown second Highest graded Rushall Player played Bd 6 250 pts above our Bd 6 Kitty.
Although we got nothing to put in the League Table points column there were plenty of encouraging signs to show against these two Division two teams last season we are not too far off the mark....
Mo Knights 3

Aug

2½

3½

Olton A

Aug

Isik, Muhammed Oguz

1668

½

½

Liszewski, Richard

1737

Kadar, Joe

1678

0

1

Holt, Trevor J

1763

Woollaston, Alan T

1659

0

1

Cottom, Andrew

1738

Heining, Dominic P

1637

½

½

Threlfall, Roger

1701

Stockhall, Derek A

1549

1

0

Evans, Garry

1670

Green, Derek

1579

½

½

Gillespie, Jim A

1515
Rushall

Aug

4½

1½

Mo Knights 3

Aug

Manpreet, Sangha

1994

½

½

Isik, Muhammed Oguz

1668

Whatmore, Steve

1820

1

0

Kadar, Joe

1678

Staniforth, John

1817

½

½

Woollaston, Alan T

1659

Pready, Alex D

1793

1

0

Heining, Dominic P

1637

Leary, Peter W

1789

½

½

Stockhall, Derek A

1549

Arapu, Cosmin-Constantin

1828

1

0

Green, Derek

1579
Tonight we played Solihull at Home and was only out graded by 438 points ..... Unfortunately at the Start our Board One was not here, I had only got the Answer Service when i tried to Phone .. now playing with my Phone off. After half hour 2 Cars had popped down and tried to make contact, a message came back some issues delaying his arrival but will try and make it. Sat waiting was Solihull's 1956 Ray Carpenter... over an hour had passed since clock start .....Mo Arrived moved pressed the clock and took his coat off ...... game on...
Domino agreed a draw on Bd 5... then Joe Brush Won on Board Two ..so much for that 200 Pt deficit .. Brilliant Joe, Dr Dominic next on Board 4 won his ... Quickly followed by Kitty with the Match Winner on Board Six I desperately tried to get in on the action and although I had a very enjoyable game Julian got the Passed pawn on Move 68, $ingerman you Finish with nothing... Well not Quite I had the winning match card in my Hands....... oh and Mo ??? Not Club Champion for nothing had to play bullet speed and I think Ray was glad to get the Draw... Another Fantastic Effort....... Well Played team......... We shall never Surrender.
Mo Knights 3

Aug

4

2

Solihull

Aug

Isik, Muhammed Oguz

1668

½

½

Carpenter, Raymond

1956

Kadar, Joe

1678

1

0

Sadler, Anthony

1882

Woollaston, Alan T

1659

0

1

Summerfield, Julian H

1837

Heining, Dominic P

1637

1

0

Silverman, Paul

1587

Stockhall, Derek A

1549

½

½

Powell, Andrew

1503

Green, Derek

1579

1

0

Wood, Penny A

1443
$ingerman
05/10/2022, Matthew Little wrote:
Hello chess players…
Tonight saw the rescheduled match between 2c and 2a.. after losing 5.5-0.5 to the 2b team I wasn't expecting much… Both teams lined up at full strength and played in grade order, the teams lined up as follows, 2c had white on odds.
Milenko vs Neil
Claudio vs TOGITC
Seb vs the Decimator
TC vs the Dazzler
Bruno vs TAL
Ceiran vs the Druge
Milenko took no time at all to play into a bad position, and Neil hot off his success in the blitz tourney wasn't hanging around, I didn't see the game but Milenko said he got battered and by about 9:15 had been dispatched by Neil so 1-0 to the 2a team.
I was next to finish, and after plating both Dazzler and Nat a lot at mine during lockdown I have lost a bit of fear of these great players… We played a tough even game for the first two hours.. but somewhere the Dazzler lost his way and I was able to win a pawn, then another, and then another! I'd had to settle for opposite colour bishops but with his pawns trapped on black squares the Dazzler knew what was coming and extended his hand. 1-1. Seb was next to finish, he played a very sharp line with the white pieces and the Decimator was on the back foot. It went all the way.. at the end it was knight vs two pawns, but one of those pawns was queening and the Decimator had no answer to Sebs near perfect moves. Once queened the hand shake followed, 2-1 to the 2c team. Dave said Seb deserved to win after the game. Hang on, this isn't suppose to be happening?? Cieran and the Druge played a cagey game, I didn't really see it but Ceiran ended up a pawn down in a rook endgame and I feared the worse! He's not in our team to make the numbers up though, and somehow managed to hold what look liked a lost endgame and the dream was becoming a reality, 2.5-1.5. Bruno who seems to relish the positional battles managed to get Tim in a bit of trouble. Tim found a nice bishop for rook sac which gave him a couple pawns, but Bruno used his heavy pieces to good use and somehow left Tim with no options and just took the victory. We were all gob smacked.. we'd done it 3.5-1.5. Claudio was last to finish, he went into an endgame bishop pair and two pawns vs bishop and rook. Martin used the extra pawns and bishop pair to good effect and Claudio couldn't stop those pawns… so the match finished 3.5-2.5 to the upstarts. Terry didn't look pleased… I felt like we'd done something wrong.. but all's fair in love and war and we didn't dwell on the blow we dealt to the A team, just happy we are up and running.
The whole team were amazing tonight, my young team rolls on. We're swimming…
Little Wonders 2C

Aug

3½

2½

Talent Squad 2A

Aug

Walner, Milenko

1758

0

1

Clarke, Neil

1943

Vaduva, Iulian

1750

0

1

Smyth, Martin D

1928

Tudor, Sebastian

1725

1

0

Thomson, David

1891

Little, Matthew

1678

1

0

Whitmore, Darren H

1861

Dos Santos Silva, Bruno A

1673

1

0

Lane, Tim A

1834

Morris, Ciaran

1655X

½

½

Drugan, Mark A

1801
1st October 22
Hi All,
Thursday saw the ALPHA ONE play a banana skin tie in the Terrill Trophy at Shirley & Wythall...Their 2nd division side are a difficult side and we needed 41/2 points to go through to the 2nd round.
Still without John Pitcher and Bernard Chan for this Shirley & W Mini Series (we played there last week in div 1), it wasn't easy finding reserves from players that wouldn't be playing in other Terrill matches and we also had the need of a driver to help with lifts.
Tim kindly offered Dave Thomson for our match, therefore dropping out of the 2A match on Monday, but I tried Jack Moss first in the hope that he could play which would mean Dave could play Monday. Jack couldn't play Thursday so he played Monday with Dave stepping in for us Thursday. Is anybody following this? Iulian Vaduva was our 6th player and his opponent never made an appearance so it was unfortunate he didn't get a game but it was nice knowing we had an early 1-0 lead.
I wasn't feeling too good on the evening so didn't take in much of the games but there was plenty of fighting chess and interesting games...My game was very exciting but I made an horrific blunder in a match where we could only drop 11/2 points...I played black v Keith Ingram in a Pirc Austrian Attack when I miscalculated and on move 11 my Queen was going to be lost...I made the best of it by gaining 2 rooks and 2 pawns for my Queen and Knight. Numerical value of pieces that beginners are taught would mean the exchange is fairly equal but I'd rather have had Keith's position than mine. I made the best of my pieces in a very tactical game with sacrifices aplenty and eventually achieved the best checkmate of my chess life with 5 or 6 pieces all involved....
Pelle Larsen was up against Dave Thomas in what was I think a Grunfeld Opening...I couldn't get a great view but Pelle seemed to be looking better and he came away with the point. Patrick Duncan on 2 was up against In-form Jonathan Dale...Jonathan used the Englund Gambit last week to beat John Emanuel so we had a bit of an on-line discussion about this and Patrick played b3 in this game. Patrick was doing early pressing and his Bishop ended up on h7 with Jonathan blocking it in with...g6. I didn't see what happened after that but Patrick lost ... John Emanuel vs C. McConkey was a game I don't remember much about so maybe John can fill us in with a short report on his game. Most importantly, John won.... The last game to finish was on board 5 and I had to leave before the finish as Terry was at the club with his Div 4 Townsend team and he was giving me a lift to Kings Heath...It looked like a Sicilian with a Stonewall pawn structure of sorts... Dave had pawns on light squares with white having pawns on dark squares. It came down to a rook and 2 minor pieces endgame and Dave got the full point to give us a 5-1 win...5-31/2 with the handicap... So, a very tricky tie safely overcome...well done to everyone....
Kevin Hurney
https://chessmicrobase.com/g/m8x8fv21
Shirley Wythall 2

Aug

3½

5

Alpha One

Aug

Thomas, David R

1931

0

1

Larsen, Pelle O

2200

Dale, Jonathan

1908

1

0

Duncan, Patrick CM

2128

Ingram, Keith R

1869

0

1

Hurney, Kevin

2051

McConkey, Chris C

1818

0

1

Emanuel, John L

1976

Christie, Gordon SG

1806

0

1

Thomson, David

1891

Freeman, John

1749

Ø

₩

Vaduva, Iulian

1750

<![if !supportMisalignedColumns]>
<![endif]>
29th Sep 22
Subject: Terrill Trophy R1
Mo Knights 3 had their first Match Tonight Away to Stourbridge 2, It was always going to be a tough match and trying to get 6 Players there was also a challenge Two of the registered Mo Knights gave notice of being unavailable for this Match so Reserves were drafted in, with Div 4 and 5 also playing Trophy Matches this week volunteers were at a premium. Nurse aka Paul Heeney who has been a long standing companion was up for the game even though he is playing again tonight in the Townshend. The other reserve was a regular last season Sia. he has moved to the land of Tal. Although to busy with a new business venture to play regularly, he would not let me down..... So I had a team, but can we all get there....... Derek aka Domino now lives in Handsworth with no transport. however he said he will get a train.... and FULL MARKS he did and was there with Joe Brush and Sia, when Me, Nurse and Mo arrived .........
Wilson, Julie C 1821  Vs Isik, Muhammed Oguz 1668
Sharratt, Paul B 1794  Vs  Kadar, Joe 1678
Shaw, Tony 1747  Vs Woollaston, Alan T 1659
Horwill, Eric 1734  Vs Stockhall, Derek A 1549
Conway-Lees, Joe 1691 Vs Zafarian, Siamak 1499X
Parkes, Gregory 1512X  Vs Heeney, Paul 1505
I saw none of the other games as the tables were well Spaced out and I was to busy struggling with my own game I can say that Derek for all his effort was first to lose against Eric Horwill, The Nurse then got a draw on Bottom board and Sia Won, then I lost ...so with two to finish we were losing 1½ to 2½ ......... Hang on a minute....we get 1½ Handicap for being a division Lower ... so we are actually wining and a need a point from the last two to win...... Mo Vs Julie Wilson Bd 1 looked very even with lots of pieces on....Big Girls twin rooks and bishop each plus lots of Pawns...... Mo did have a time advantage of over 10 minutes... Joe Brush Vs Paul Sharratt on Bd 2 a rook and five P each but Paul looked to have the momentum edge. ........time ticked away and Paul got a pawn running it was looking a winner however Joe found a covering move with Checks forcing a repetitive draw ...... 2 - 3 to them over the Boards its all down to the last Board we need a draw they need a win........ Julie got into time trouble and offered a draw....... that could of been it however ....... Mo did not win the Club championship giving draws in won games and he got the full point ........ Well Played Guys .... Another SB Team in the Terrill Hat against all odds...
Singerman
23rd Sep 2022
Hi All,
 With so many 1st team players withdrawing from this match, this was always going to be a very tough ask but our strength in defence is never in doubt...Shirley were missing a couple of players in J. Fallowfield and M. Walsh but we were without J. Pitcher, P. Larsen and B. Chan to add to already losing J. Swindells and P. Besedin. At 6.30pm, I saw a text from Tim asking me if I'd realised Faraz had withdrawn...I'd started out at 5pm and hadn't looked at my emails whilst travelling. Thankfully, Faraz had contacted the club on whatsapp and Matt contacted Martin Smyth whom agreed to play at very short notice. Great team work so thanks to all, especially Martin for playing... Shirley arrived at their club after most of our team and the match started late... I did write a few notes about players games but left it at Wythall so it will be a brief report.... I was on board 2 instead of my usual 4/5 and it threw Don because he'd prepared for JP and PL apparently refuting the b3 opening in his preparation. He studies hard at the game and understands so much knowledge but I did my usual and went my own way. A Sicilian Defence without d4 ensued and I was happy with my play, even having the advantage near the end but there was a lot of play still in it. He said the game was a bit like a Carlsen game though my ideas were obviously of an higher level....ha!!<![if !vml]>
<![endif]>
Draw Agreed to start the match....see game below
Cory drew on board 3 against S. Briggs in a game where Cory had to be careful in the middle part of the game but seemed to neutralise well and obtained a good draw.
John was a sacrificed pawn up in his game but as usual in these games, black had compensation with his activity....a bit later the material was level and I didn't see the end but John lost against J. Dale.
Patrick was on board 1 against P. Purcell and I think it was that game that was a Nimzo-Indian...If I remember rightly, Patrick was a pawn up but Purcell had a protected passed pawn which proved enough for the draw.
Tim played his beloved b3 and always seemed better against C. McConkey with his pawn advance to b5 against a c6 + d5 pawn structure...Tim came in to the bar to give us the good news...
So, all on Martin's game...he did worry me early in the game with his Queen in opponent's territory and short of squares but Martin is very resourceful and both players repeated moves at the end to agree a draw....so, an excellent draw as we were out-graded on the top 3 boards but 3 draws were justice for what we deserved. Thanks to everybody involved in playing and getting this team sorted and thanks to Tim for his win and dropping players at certain points after the match.
Hurney Kevin vs Mason Don - Chess Microbase
Shirley Wythall

Aug

3

3

Alpha One

Aug

Purcell, Philip

2148

½

½

Duncan, Patrick CM

2128

Mason, Donald J

2178

½

½

Hurney, Kevin

2051

Briggs, Steven

2114

½

½

Hazlehurst, Cory S

2068

Dale, Jonathan

1908

1

0

Emanuel, John L

1976

Ingram, Keith R

1869

½

½

Smyth, Martin D

1928

McConkey, Chris C

1818

0

1

Lane, Tim A

1834

<![if !supportMisalignedColumns]>
<![endif]>
 Kevin
14th Sep 2022
Hello Chess Players,
Tuesday 6 September saw a team representing South Birmingham make its' way to Tyseley to play in the annual match against Olton chess club.
This was our 35th.annual "Friendly" match.
We originally had agreed to play the match over 20 boards but the membership of the Olton club has been diminishing over the last few years and in the last twelve months they have had three members die and their strongest player Phil Holt is currently in hospital. We turned up with 19 players and Olton after having been bolstered by three players from Shirley Wythall chess club had 16 players, so to help balance the teams we let Olton have one of our best players in the guise of Martin Smyth to strengthen their team. Each team now had 17 players in their side. Sathya Vaidyanathan was left without an opponent until one of the Olton players Gary Evans turned up unexpectedly. So Sathya now played against Gary and the match now took place over 18 boards.
I was pleased that players from all of our eight teams were represented in the makeup of our team. Leading the team this year was Patrick on board one followed by new boy Bernard on board two. Most of our players had not played in one of these annual matches before.
We out graded our opponents on most of the boards and this came to show in the final result which resulted in a win for South Birmingham of 12.5 to Olton's 5.5.
This was our 22nd. successive victory !
Well done team !
Full results below:
Alan Lloyd

2134

0-1

Patrick Duncan

2128

Mark Cundy

1950

½-½

Bernard Chan

2075

Martin Smyth

1928

½-½

Cory Hazlehurst

2068

Richard Reynolds

1861

0-1

Kevin Hurney

2051

Robert Reynolds

1762

1-0

Neil Clarke

1943

Richard Liszewski

1737

1-0

David Thomson

1891

Andy Cottom

1737

0-1

Tim Lane

1834

Trevor Holt

1763

½-½

Jack Moss

1822

Chris Pitt

1639

0-1

Robert Glass

1778

Frank Jimenez

1632

0-1

Muhammad Oguz Isik

1693

John Asbury

1567

0-1

Matthew Little

1678

Sam Hughes

1598

0-1

Bruno Silva

1669

Warren Archibald

1565

0-1

Adithya Vaidyanathan

1644

Jim Gillespie

1515

0-1

Paul Heeney

1505

Kacper Drukarczyk

1675P

½-½

Chris Moore

1483

Dave Reeves

1482

1-0

Andrei Artemov

1415

John Clulee

1113

0-1

Luke Lambert

----

Garry Evans

1670

½-½

Sathya Vaidyanathan

1414

5½-12½
Terry
Hello Chess Players,
After the lock down in March 2020 all over the board chess events closed down. South Birmingham Chess Club was one of the first clubs to reopen in the summer of 2021.
Since reopening the club we have welcomed about 45 visitors. Many of these had not played over the board chess before and needed to familiarise themselves with the rules.
20 of the visitors joined the club and have given it an international flavour. Our members now represent Cuba, Denmark, Hungary, India, Italy, Iran, Jordan, Latvia, Poland, Portugal, Spain, Slovenia, Switzerland, Romania, Russia, Turkey.
Competitive over the board chess re-started in October 2021 in a limited form with many events not taking place.
Many of our new members will not be familiar with the activities that will be taking place from now on, so I thought that I would list all the items that the club and members can be involved in.
Internally we will be having a summer program of events that everybody can join in, including visitors.
These will be taking place every Wednesday starting next week 13 July. SEE BELOW
There will be a club championship starting in October. This will be a 7 round Swiss tournament and will be graded.
Members can enter a game for the best game prize in the Walker Trophy.
You can just come along and play a few friendly games.
There will be a 'Lads Beer and Curry' night in December and June.
Our first competitive match of the new season will be a 20-board match against Olton chess club on Tuesday 6 September 2022.
We have entered 8 teams in the Birmingham League in divisions one (2 teams), 2 (3 teams), 3, 4 and 5.
All the fixtures have already been arranged and members will be supplied with a Handbook with these in at the end of August.
We have entered 5 teams in the League Trophy knockout competitions.
All members are eligible to play in the l League individual knock-out competitions of which there are 5 sections based on grades.
All members are eligible to enter the best game competition for the Baruch Wood Trophy which includes a £30 prize.
Juniors under the age of 16 can be entered for the Ritson Morry Trophy which includes a £30 prize.
We will be entering the League Lightning tournament which is for teams of four. There are three sections and we usually enter four teams.
There is also an individual prize of money for the best performance! (don't get too excited it was only £10 when I won it)
A new event taking place next season will be a series of Blitz tournaments. They will be held at different league clubs and open to everyone.
South Birmingham will be hosting the event on Monday 3 October. It will take place in the Ball Room downstairs.
These Blitz events are being run by the Birmingham Chess League and the ECF.
We have entered a team in the Dudley league
We then come full circle and start the Summer League Rapid Play tournament in May 2023

Summer Programme 2022
South Birmingham Chess Club is open throughout the summer
A programme of special events has been arranged for Wednesdays as follows:
13 July 5-minute tournament with 3 second increments
20 July 10-minute tournament
27July Lightning tournament (10 seconds per move)
3 Aug 5-minute tournament with 3 seconds increments
10 Aug Fischer Random chess, Kreigspiel, four-handed chess, friendly
17 Aug 5-minute tournament with 3 second increments
24 Aug End game competition (test your knowledge, solve set endings)
31 Aug Lightning tournament (10 seconds per move)
21 Sept Simultaneous Display by one of our top players (Jon Swindells) graded over 2200
Opening night of the new season (time to pay your subs!) and play a few friendly games, see which team you will be in and see the fixtures.
Events will start promptly at 7.30 p.m. Please try and be at the club by 7.20 p.m. if you wish to compete.
We will try to accommodate late entries but late arrivals may be unable to complete their games in the available time and unfinished games will have to be defaulted.
If you do not wish to compete in the above programme, there is no problem, just come along and pay some friendly games.
Visitors and members from other clubs are welcome to come along on a Wednesday and join in our events or just play friendly games of chess.
The club is fully licenced and drinks are cheap!
Cheers
T. W. Walker AKA Tricky
Friday 10th June
Another Season …. Another Beer and Curry Night Prince of Wales then Diwan Restaurant Alcester Road.
<![if !vml]>
<![endif]> <![if !vml]>
<![endif]> 
5th May 22
SBCC Entered 5, 4 Board Teams in the four sections of The Birmingham Summer Rapid Play League
1 in the Open, two in 7400, 1 in the 6600 and 1 in the 5800.
21st April 22 Div 1 Seaside final Wave
Chess players,
The two adjourned games in the Seasiders' match against Walsall Kipping resulted in a win for John and a draw for Martin, making the match result 5-1 in our favour.
End of season thoughts: The loss of David Dunn left a hole in the team that was hard to fill. David would have played in every match and was always a hard man to beat. We lost five matches 3½-2½ and, while my head says it would have been a tough season anyway, my heart says we might have stayed up were it not for his untimely departure. But it was a really easy side to captain! John, Martin, Darren and I played in every match, and Tom-Tom missed only one (due to a parents' evening). That means we needed only ten reserve boards all season, and there was never any shortage of volunteers willing to stand in on Board 6. There are some very good players on the upper boards in Division One, so the individual results don't make great reading, especially in the top half of the team. But whatever the result, we were always back for the following match!
<![if !supportLists]>o <![endif]>John 3/11 on Board 1
<![if !supportLists]>o <![endif]>Martin 1/11 on Board 2
<![if !supportLists]>o <![endif]>Darren 2/11 on Board 3
<![if !supportLists]>o <![endif]>David ½/2 on Board 4
<![if !supportLists]>o <![endif]>Tom-Tom 4½/10, mostly on Board 4
<![if !supportLists]>o <![endif]>TAL 6/11, mostly on Board 5
<![if !supportLists]>o <![endif]>Reserves: Nat 2½/3, Jack 2/2, Claudiu and Anze Borisek (Milenko's pal) both 1/1, Rob and Sebastian both ½/1, Muhammed 0/1
<![if !supportLists]>o <![endif]>Overall 24½/66
Tal
20th April 22
Hello Chess Players,
Daventry Chess Congress
It was good to see six of our members playing in the chess congress at Daventry over the Easter weekend. In the under 2000 section, Darren Whitmore, Jack Moss and Muhammed Isik all competed and all three finished with 4 points from 7 games. Of the three, Jack had the toughest matches and with a grade of 1659 was seeded number 47 out of the 53 competitors. He put in a grading performance of 1991and won a prize of £75 for his performance. Well done Jack. In the under 1700 section, Bruno Silva, Adithyan Vaidyanathan and Sathya Vaidyanathan all competed. Adithyan scored 4.5 points, Bruno 4 points and Sathya 3 points. Of the three, Sathya with a grade of 1280 did well and put in grading performance of 1474.
W.Ritson Morry Trophy
Congratulations to Elis Dicen for winning the W.Ritson Morry Trophy .
It is awarded each year to a young Chess Player for outstanding achievements in Chess. Open to Junior members of the Birmingham & District Chess League, Birmingham & District Junior Chess League and Birmingham Checkmates. A 'Junior' is identified as below the age of 16 years on the closing date of the competition (March 31st). The winner will receive a cheque for £30 and will retain the cup for one year. In addition they will also have a small medallion to keep and a certificate.
Tricky
19th April 22 Div 4 Promoted
Hello Chess Players,
Our division four team started the season with just three players Derek Stockhall, Chris Moore and Paul Heeney and for the first two matches had to rely on reserves. There was no captain and non of the players had any transport, so a difficult season lay ahead. Looking at the registrations of the other teams in the division, I was wondering how we were going to stay up. The team won the first match which was at home but then the next match was away at Sutton Coldfield. Tim drove from home and transported the team from Moseley to Sutton Coldfield and I then drove to Sutton Coldfield and brought them back. This Match we also won although we had to use two reserves. So a good start to the season, points wise. The club then welcomed new member Dominic Heining who joined the team and helped out with transport. Dominic was no mean player and completed the season undefeated. After nine matches, we had won six and lost three matches. The team found itself in second place. The tenth and last match was away against Solihull. If we could win our last match we could get promoted. Solihull were also in a position to get one of their teams promoted, so everything was at stake. Derek, Dominic ,Paul and Chris had got the team to second place but to defeat Solihull it would be necessary to strengthen the team. I asked Paul and Chris if they minded not playing in the last match so that I could use two stronger players. Being team players, they agreed. I originally wanted Claudiu to play but I had to let him be transferred to the division three team to help their promotion prospects. I think that the transfer fee agreed with two cars was half a pint of lager and some cheese biscuits. But still not paid ! So Bruno and Muhammed stepped in and strengthened the team. The team played well and we won the match and are now promoted to division three. Well done team.
Tricky
3rd April 22 Div I Buzzing with the Bees
Hello chess players,
The season for South Birmingham's 1B team concluded in typically chaotic fashion this week. A roundup of the season follows, as there have been a lack of match reports this season. This is mainly thanks to the business end of the Birmingham league rudely coinciding with the business end of a local election campaign.
The 1B side only have great seasons, or terrible seasons. Either we sweep everyone before us and finish well in the top half of the table, or we lose many matches narrowly and have a last-ditch attempt to avoid the drop. The 2021-2 season was one of the latter. After beating the 1C team in our opening game, five straight losses on the bounce followed. Two wins and a draw in our final four games kept us up by the skin of our teeth.
Due to a mixture of shift patterns at work, family commitments and a pandemic , a rotating cast of players turned out for the 1B side. The high point (or low point, depending on how you look at it) was when a Covid outbreak in the squad after one of our matches forced us to field six reserves against Sutton Coldfield. 20 (twenty) different players played for us this season, and I want to thank everyone who kept the show on the road during a very tough season. Particular thanks to:
1.             Milenko, who for one match drove from Stafford to Wolverhampton and then gave three of us a lift back to South Birmingham before driving back to Stafford.
2.             Our super subs John Emanuel, Martin Smith and Jack Moss, who scored a combined total of 8½/9 in their reserve games, ensuring we picked up crucial points in our last half dozen games to survive the drop.
3.             Terry, who assembled a squad for us the size of Manchester United at a fraction of the cost, and who's dedication stretched to appearing on Board 1 against Henrik Stepanyan in the Sutton match I talked about earlier.
4.             Tim, who not only stepped in as reserve but also worked in the background with other clubs to discuss rearranging the dates of matches, which altered more times than the government's pandemic strategy.
5.             Our regular players Adam, Richard, Faraz and Neil, who have all coped very phlegmatically with what has been an avalanche of nonsense this season.
On Monday we defeated Mutual Circle 4½-1½, thanks to a default on bottom board and wins from John and Faraz. Walsall Kipping have defaulted their final match to us, so it is between them and Warley Quinborne as to who gets the final relegation slot. Here's hoping for a slightly calmer 2022-23 season!
Cory (aka Teach)
31st March 22 Div 1 Alpha 1
Hi All,
 Last night was a strange night in which a win looked highly unlikely for some time....  We played Shirley & Wythall in Division 1 at our place and I had everything set up early with a little help from Mohammad despite the fact he had a Division 5 match himself so many thanks to him as always...Shirley had a strong side with the only reserve being former SB player, Chris Pitt. I wanted the match to start fairly promptly as the Club are stricter these days with wanting us out by near 11pm... So, we started but we only had 4 players which was a little worrying. Pavel is normally a bit late but to have 2 players that haven't arrived, it meant my captain duties were still taking some of my concentration during my game...At around 7.50pm, I contacted both players, Pavel and Pelle...Pavel was delayed and Pelle had forgotten about the match, I sent a reminder the night before the match but Pelle wasn't on my SB address list though I did send information about a week earlier...Pelle cycled to club and arrived about 8.20pm roughly around the same time as Pavel. Amazing effort from Pelle to not 'stay at home' but cycle all the way to the club and risk losing anyway with a big-time deficit against S. Briggs 2104. This game was the 2nd to finish too. It looked like a Kings Indian Attack type of opening with Pelle playing Bg2. The game ended a draw... First to finish was Patrick Duncan 2126 against Keith Ingram 1867....It was a Larsen opening in which Patrick always seemed to have a small edge but Keith Keith missed a simple tactic and lost a piece with Patrick also threatening mate. Quick win for Patrick John Pitcher 2282 vs P. Purcell 2103 was a very closely fought match with which John played a different type of opening to which he normally plays....It looked like a Grunfeld to me.... There were few exchanges of pieces and things looked a bit congested with his opponent advancing his king-side pawns which looked promising and the next I heard was John had lost his 1st game of the season....81/2 out of 10 for the season on board 1 and 3 if I remember rightly. BRILLIANT PEFORMANCES by John.... Jon Swindells 2237 vs Don Mason 2137 was an incredibly interesting game in a Kings Gambit in which Jon played ...Nc6 which Don didn't expect and he took a long time weighing up the differences between the move played and the book move. Jon advanced his f and g pawns early and Don was trying to probe behind the pawns on the king-side. I didn't see the conclusion but a good win for Jon.....Pavel Besedin 2137 vs Dave Thomas 1962 was a Kings Indian Defence but I don't remember anything about the game but Pavel had a pleasing win despite his time disadvantage.... Myself 2070 vs Chris Pitt 1617 was a Modern Defence in which I was always better but Chris played well and made life difficult for me...I won a pawn and gradually ground him down though it went down to a minute or two from the time control. So, a 41/2-11/2 win for us which gives us 9 wins and 1 draw for the season, better than Solihull and their band of Merry Men, The Rules Committee are the only group to beat us this season so Solihull win the League so well done to them...I have nothing against them bringing strong players to the league, But to take us to the rules committee due to my changing of the board order to give us better chances with just 7 ECF pts in old money between our top 3 players. Next up is Warley Quinborne away next Monday.....Kevin Hurney
Hitman
22nd March Div 3 TNT the last flash
Ok, I've got to start this report by saying I'm heartbroken…
This was our final match, and we knew it would be won or lost by bottom boards. as so it proved to be. Sia was celebrating the Persian new year so Claudio joined us, we lined up as follows…
The Druge vs Peter Thompson
Claudio vs Mike Wildboar
Milenko vs Graham Barrett
TC vs Peter Barrett
Joe vs Thomas Vanes
Singerman vs Des Green
Claudio was first to finish, I have to be honest I have no idea what happened but he secured a draw and that was the start we needed. Well done Claudio. Rated over 1800 Wildboar couldn't convert with the white pieces… Claudio had the answers and earned a great draw. ½-½ I need to say here that Jo has played above me all season, and for some reason I switched us tonight. I'd been doing so well with black… never forget though. don't change your horse's mid-stream!!! It cost us… Joe finished next, and he played into a great position and cpu analysis had him at +4.7… but a knight move threw him and one miscalculation cost him, the tables had turned and we had lost the game. ½-1½. I was next, and blundered my central pawn that was holding my position together. I couldn't recover it. distraught I played on to no avail, and my submission came when he had two passed pawns I could only oppose with a king. had I blundered the season? I'm not very a good loser so went off to kick things ½-2½. Singerman was next, and he looked pretty relaxed all evening Singerman played the Charlick Englund Gambit against e4 he has played this many times, and knows it well and so it proved. I looked over at this and saw him not one but two pieces up… you can guess the rest Singerman delivered… well played, 1½-2½. Milenko has next and he used the white pieces well, he really wanted like I to earn promotion, and thankfully the occasion didn't get the better of him. He played brilliantly. Took his time, took no chances, and just outplayed his opponent. At one point he was threatening to take a Rook with a knight and fork his queen with his king at the same time. A quality game and a deserved victory, well done Milenko. 2½-2½ That just left the Druge, who was playing a 2000+ player. The match tied, and him knowing we probably needed to win, it couldn't be tenser. All the boards had finished, and Mark looked good. I couldn't believe it. could we still win after messing up the lower boards? The Scandinavian defence had been on the board, and the Druge played in to the main line.. it was super tight all the way, I was worried as I know have savvy these 2000+ players are in the endgame. Mark still pressed, and there could only be one winner… unfortunately there was simply never a winning move presented to Mark, but he forced a draw with both players under 5 minutes and the match was drawn. Probably Marks best game of the season, he was fantastic. 3-3 So we finish our campaign second, however we will 99% finish third as Sutton who we beat 5-1 look to win their last 8/9 matches and pip us to second. Match card league table attached, that's us done. Brilliant team. been a pleasure and honour to be the captain. well done everyone. We nearly did it… we'll have a team curry early one Wednesday and hit the club in the next couple of weeks. 💥TNT💥 over and out
South Birmingham

3

3

Coleshill

Drugan, Mark A

1786

½

½

Thompson, Peter I

2028

Vaduva, Iulian

1773

½

½

Wildboar, Mike

1806

Walner, Milenko

1742

1

0

Barrett, Graham

1582

Little, Matthew

1684

0

1

Barrett, Paul

1568

Kadar, Joe

1693

0

1

Vanes, Thomas

1512

Woollaston, Alan T

1673

1

0

Green, Des J

1116
❸

P

W

D

L

F

A

Pts

Oscott A

10

9

0

1

40.5

19.5

18

Sutton Coldfield

10

8

0

2

39

21

16

South Birmingham

10

6

2

2

33.5

26.5

14

Coleshill

10

5

3

2

37.5

22.5

13

Mercia

10

5

1

4

31.5

28.5

11

University of Birmingham

10

4

2

4

31

29

10

Olton

10

3

3

4

29

31

9

Lichfield

9

4

1

4

27.5

26.5

9

Oscott B

10

2

1

7

22.5

37.5

5

Stourbridge

8

0

1

7

14.5

33.5

1

Kynoch

9

0

0

9

11.5

42.5

0
TC🚗🚗
16th March 22 Div 1 Seaside the last splash for now
Chessplayers,
Playing our final match of the season, the Seasiders stunned the chess world by overturning a season of misery and actually winning a match!
Seaside

Walsall Kipping

1

Emanuel, John L

1941

Adjourned

Bellin, Jana M

1992

2

Smyth, Martin D

1922

Adjourned

Bellin, Christopher J

2067

3

Whitmore, Darren H

1885

1 - 0

Roberts, Nick W

1949

4

Thomson, David

1899

½ - ½

Daniels, David W

2143

5

Lane, Tim A

1886

1 - 0

Groombridge, Mike J

1709

6

Vaduva, Iulian

1773

1 - 0

Brown, Victor J

1557
On Board 6, Claudiu's opponent played the ubiquitous 1. d4, 2. Bf4 setup, which in due course transposed to something more like a Dutch Stonewall. An error by white allowed Claudiu to play … e5 under advantageous circumstances, then launch a K-side attack that won Q for R+B. There were a few more adventures along the way but eventually the first point of the evening was ours. On Board 4 Dave tried the Benoni, but white dodged Dave's hoped-for Benko Gambit by playing the cautious 3. Nf3. This too led to a transposition, in this case into a Maroczy Bind. White had a bit of pressure, but nothing too serious, and a draw resulted. I didn't see the start of Darren's game, but I think it was a Sicilian. Darren as white castled on the K-side while his opponent went the other way, and a classic case of attacks on opposite sides of the board ensued. Darren played what he described as a speculative sacrifice, but the enemy declined the offer and the soundness of the idea remained untested. Anyway, Darren's attack had more venom than his opponent's, and a further point was in the bag. My own game started 1. g3 Nf6 2. Bg2 d5 3. c4 c6 4. Nf3 Nbd7 5. d4 g6 6. cxd5 cxd5 7. Nc3 Bg7 8. O-O O-O 9. Bf4 a6 10. Rc1 b5, reaching a position I had against Dave Thomas earlier in the season. This is yet another transposition, into the Fianchetto Variation of the Gruenfeld, which would normally occur via 1. d4 Nf6 2. c4 g6 3. g3 Bg7 4. Bg2 d5 5. O-O O-O 6. Nf3 c6 7. Nc3 Nbd7 8. cxd5 cxd5. Against Dave I played the inept 11. e4?, isolating my d-pawn and ceding d5 to Black as a centre of operations. Back at the repair shop, Fritz suggested the clearly better 11. Qb3 as an improvement, after which the natural 11. … Bb7 was an error, exploitable by 12. a4!, when white is winning a pawn. Black got into further trouble on the long diagonal and I too managed a win, after which the match was already in the bag. The Bellins (mother and son) like to play adjournments, and both of them ended the evening with difficult positions to analyse and defend. John vs Jana Bellin was a Czech Benoni in which phone analysis of the adjourned position in the bar afterwards was +3.6 in John's favour. Chris Bellin vs Martin was a Sicilian with 2. … Nc6 in which Martin lost a pawn but then managed to turn the position round, ending the evening a pawn up. Chat in the bar afterwards suggested white's position is defensible, but only if he finds the right moves. The adjournments will be played on 6 April – more news then.
Cheers, Tim.
15th March 22 Div 3 The Next Target
Tonight was the night... a top of the table clash between us 2nd and Mercia 3rd in the table, the prize? Winner goes second in the league and a possible shot at promotion.. loser gets to whistle Dixie… no one's given us a shot all season.. could we continue to defy the naysayers? It was a unusual line up with Joe and Sia out.. so we got a couple of these wonder lads in from div 5 .. Milenko and Singerman arrived solo, I took the rest, the teams lined up as follows
Board

Mercia

South Birmingham (TNT)

Jan

1

Sims, Callum

UG

Dos Santos Silva, Bruno A    (Frank)

1853F

2

Vout, Will

1677

Drugan, Mark A                  (The Druge)

1786

3

Share, Michael

1688

Vaduva, Iulian                     ( I Claudius)

1773

4

Tyler, Steve

UG

Walner, Milenko                 ( Sir Miles of Stafford )    

1742

5

Cox, Chris M

1618

Little, Matthew                    (2-Cars)

1684

6

Smith, Barry R

1541

Woollaston, Alan T             (Singerman)

1673
I faced my 8/9 black game this campaign (might need some violas as well..) and wanted to play solid.. I have to say I feel I played the best game of my season when it counted.. Queens gambit declined. I think he was positionally busted after 15 moves, and on my 25th move I had mate in 4 and took it. I was really proud of myself, it was beautiful. Here's the whole game 1-0 at 9pm. 1. d4 d5 2. c4 e6 3. cxd5 exd5 4. Nc3 Nf6 5. Bg5 c6 6. Nf3 Be7 7. e3 Bg4 8. Be2 Nbd7 9. O-O O-O 10. Re1 h6 11. Bh4 Ne4 12. Bxe7 Qxe7 13. Nd2 Bxe2 14. Rxe2 f5 15. Ncxe4 fxe4 16. Nb3 Rf5 17. Qc2 Raf8 18. Rf1 Qh4 19. h3 R8f6 20. Nc5 Nxc5 21. Qxc5 Rg6 22. Kh2 Rh5 23. f3 Qg3+ 24. Kh1 exf3 25. Rxf3 Rxh3+ 26. Kg1 Qh2+ 27. Kf1 Qh1+ 28. Kf2 Rxg2# 0-1 Milenko was second to finish and with the white pieces he played a scotch game where he got bored of waiting and took on e5 himself. Won a pawn super early, and this fella just went wild… He played the most aggressive line he could and the kitchen sink went at Milenko's king.. pieces were thrown away and he nearly got through.. but Milenko's not one to miss-calculate, and he absorbed the ferocious attack and just about got into a won endgame, knight and bishop vs rook… he didn't need anything else, he queened and the resignation followed.. 2-0. Boom. Singerman was next up, and with the white pieces he played against the Nimzowitsch defence, Scandinavian advance variation pushing on to e5… He seemed to positionally out play his opponent, and the chap just crumbled really. Lost a piece and it just got worse, all his mumbling couldn't turn back the clock, and he was ground to dust. 3-0. Wasn't suppose to be this easy?? The bottom boards all finished by 9:30, and almost an hour later, the Druge was also in the winner's enclosure. The Rudy Lopez had been on the board, with his opponent choosing the classical deferred variation of Morphy's defence. He'd been playing a cagey game, knowing the importance of the match, with boards 1 and 3 still hotly contested… but ahead on the clock, his opponent out of ideas and time, the Druge just made it impossible for him to do anything and suffocated the life out of the black pieces. 4-0. It doesn't get to taste much sweeter. Claudio was last but one, and he got to play someone 1700ish player, which after easing through div 5 games will surely help his development, I feel he has great potential! He played the Indian defence, Anti Nimzo variation, and got into a reasonable position, although lost a pawn early. The game was pretty wild with his queen side blown away, but his bishop pair and queen looked menacing.. his opponent knew how dangerous it was and tried to exchange down as much material as he could. He did this and got to the endgame a pawn up. Claudio gave up another pawn however to get an opposite colour bishop endgame, and even two pawns down held the game no problem. Well saved. 4.5-0.5. That just left Bruno, who was recovering from a weekend in Portugal and subsequent food poisoning. He played board one, as he won 9/9 in div 5 I think. He played a brilliant game, thinking well and clearly, after nearly two and a half hours you couldn't pick a winner. He played the modern line of the Sicilian, and got into the positional trenches. Was pretty even all the way through. Somehow though, he didn't get to block a pawn in the endgame and it got too close to promotion, it was a shame he couldn't hold it as he deserved a draw.. 4.5-1.5. So we go into our last match of season, with it all to play for. People said we'd have no chance.. People have said we won't beat Coleshill… you know what Milenko and I think about that don't you?? Match card attached, lovely evening everyone happy and friendly. Just one more hurdle…
TNT over and out 
| | | | |
| --- | --- | --- | --- |
| Mercia | 1½ | 4½ | South Birmingham (TNT) |
| Sims, Callum | 1 | 0 | Dos Santos Silva, Bruno A |
| Vout, Will | 0 | 1 | Drugan, Mark A |
| Share, Michael | ½ | ½ | Vaduva, Iulian |
| Tyler, Steve | 0 | 1 | Walner, Milenko |
| Cox, Chris M | 0 | 1 | Little, Matthew |
| Smith, Barry R | 0 | 1 | Woollaston, Alan T |
TC🚗🚗
13th March 22 Team Aid
Today a chess tournament to raise funds for Ukrainian Humanitarian Aid was played at the University of Birmingham campus, South Birmingham raised a team of four, De Molly, 2 Cars, Luneta-Park and the Horologist, otherwise know as Sean Ralph (Capt organiser), Matt Little, Nat Kasafir and Muhammed Oguz Isik,  After 6 Rapid Play rounds of 20 minutes the team came second, De molly takes up the story….The whole team did really well , so proud of everyone including Javier who played for a Barbarian side . Whilst the Team out performed all expectations against some quality opposition. Mo won the Board 4 medal with 6/6.Well done Mo brilliant performance kept the pressure off me. Matt scored 4/6 on Board 3 which was also an excellent performance. Nat on top Board played some unbelievable chess against 5 of the 6 teams with at least 175 old style grades and nearly managed a win against a 210 player; his opponent had to perpetual him just to get the draw. Nat played one game where you can see why he has hit 2300 at times on online servers, where he played an amazing game against Leeds or Sheffield University Board 1 with some mastery. To score 4/6 on top was an amazing feat.
Me on board 2 had a good day with 3 wins, 2 draws and just the one defeat on time but was happy with my form. I was in Time trouble of sorts in every game. Javier also scored a mighty impressive 4½/6 for Barbarians
Yes we got a certificate, some chess book, and a chess magazine March 2022 edition and apparently a chess board or chess set which is currently in Norwich. Fabulous day and everyone did something amazing, even our cheerleader Darren Whitmore who came to lend support in last few rounds. Well done Nat, Mohammed, Matt and myself I guess. I doubted we could do it but how wrong I was and just shows the club has such strength in depth.
10th March 22 Div 1 Seaside
All, The Seasiders' relegation was confirmed on Wednesday by our fifth 3½–2½ defeat of the season (from ten completed matches).
| | | | | | |
| --- | --- | --- | --- | --- | --- |
| | Seasiders | | | Halesowen | |
| 1 | Emanuel, John L | 1941 | 0 - 1 | Edge, John A | 2087 |
| 2 | Smyth, Martin D | 1922 | 0 - 1 | Fishburne, Stewart K | 2035 |
| 3 | Borisek, Anze | 1905 | 1 - 0 | Sandhu, Manvith | 1904 |
| 4 | Whitmore, Darren H | 1885 | 0 - 1 | Priest, Adrian A | 1793 |
| 5 | Thomson, David | 1899 | 1 - 0 | Grimes, Robert | 1774 |
| 6 | Lane, Tim A | 1886 | ½ - ½ | Ambrose, Andy | 1773 |
John on Board 1 was white in a Benko Gambit. I didn't see much of this but John Edge got plenty of play for his pawn and, unusually, avoided his usual chronic time trouble.
Martin on Board 2 was black in a Vienna Game. Martin is very proud of his career record against Stewart Fishburne, which is something like P11, W0, D1, L10. Martin got tangled up in an unbreakable pin that cost a piece.
Anze Borisek on Board 3 is a visiting friend of Milenko's who we had cunningly registered in advance of the match. He transposed from Bird's Opening to a Stonewall Attack, then played a Bxh6 sacrifice, then (after some adventures along the way) delivered mate. Darren on Board 4 played a 1. e4 c5 2. Nf3 e6 3. d4 cxd4 4. Nxd4 Qb6 Sicilian against Adrian Priest. A bishop ending ensued where Darren had 4 vs 3 on the K-side and his opponent had a passed a-pawn and c-pawn. White seemed to play very accurately and eventually got the bishops off to reach a pawn ending which he won by a single tempo. David played Robert Grimes, who's a wheelchair user, in the bar and quickly won a piece, then more slowly won the rest of the game. I had a Tarrasch French with 3. … Nf6 4. e5 Ne4. White swapped everything off and when he offered me a draw after nineteen moves I had little choice but to accept.
The Seasiders have one match left, at home to Walsall Kipping on Wednesday before met morphing back into the Div 2 Talent Squad.
❶

P

W

D

L

F

A

Pts

Solihull

10

9

1

0

47.5

12.5

19

South Birmingham A

9

8

0

1

41

13

16

Olton

8

6

0

2

25.5

22.5

12

Mutual Circle

10

4

2

4

31.5

28.5

10

Wolverhampton

7

4

1

2

22

20

9

Halesowen

10

3

2

5

25.5

34.5

8

Shirley Wythall

7

2

3

2

23

19

7

Warley Quinborne

7

2

2

3

20

22

6

South Birmingham B

8

2

1

5

18.5

29.5

5

Sutton Coldfield

9

2

1

6

17.5

36.5

5

Walsall Kipping

7

1

2

5

14.5

27.5

4

Soutn Birmingham C

10

0

1

9

19.5

40.5

1
Cheers, TAL
9th March 22 BDCL Div 5 Champions
Hello Chess players
On Wednesday our division five team played a home match against Kynoch 'A' . With one of our regular four players not available to play, this gave one of our reserves the chance to shine.
Stepping up to the challenge was our youngest member, eight year old Adithyan Vaidyanathan (March grade 1583). Not wasting any time, Adithyan was the first player to finish, winning the first game for the team.
Shortly afterwards, Claudio soon won on board two. Sebastian followed with the teams third win giving us the match. This just left Bruno on board one. Bruno had played well throughout the game and had a winning position.
A miscalculation towards the end of the game left Bruno in Zugzwang and resignation followed. Although the team have one more match to play, the 3 – 1 win for the team means they have already won the division five Championship.
Well done team, and Well done Adithyan. Full results below
556

South Birmingham 5

3

1

Kynoch A

Dos Santos Silva, Bruno A

1853F

0

1

Norton, Aaron

UG

Vaduva, Iulian

1773

1

0

Hackett, Bob

1316

Tudor, Sebastian

1622F

1

0

Kumar, Rajeev

1321

Vaidyanathan, Adithya

1559

1

0

Dyson, Phil

1302

❺

P

W

D

L

F

A

Pts

South Birmingham

10

9

1

0

33.5

6.5

19

Longbridge

9

5

3

1

22.5

13.5

13

Rushall

8

4

3

1

20.5

11.5