<![if !vml]>

<![endif]>SOUTH BIRMINGHAM CHESS CLUB   Old News
Seasons 2016/17/18/19
16th April 19
And finally the round up
In Div 1 SB Alpha Ones last Match was away against Walsall Kipping, a loss would give Kipping the BDCL Championship Title, a Win would give Solihull the Title, Professional to the end we won unfortunately for WsK playing the last game against the team that has finished in one of the top two places fourteen of the last eighteen seasons is not ideal; they turned down a chance for revenge in the Runners up Play off Match, Solihull was happy.
In Div 2 Lichfield only Drew their Last Match and finished as runners up 2A Talent Squad won to Win the Div 2 Title and Transform back in to the Seaside, at the other end, Sutton 2 who won a board dispute against Mutual 2, overtook our 2B who got relegated for the second season in a row.
In Div 3 Team Monty's Survival needed Sutton 3 to lose their last match, and by some quirk of fate they did 3½ - 2½ due to them defaulting a board. Well done that man.
In Div 4 the team performed above expectations and finished fifth, Captain Brush and Invincible held the team together only losing 3 games out of 20 between them.
In Div 5 the team finished joint fourth and new members proved the club is in safe hands with good results from players with little over the board experience
So this seasons collection is
Open Section Runners up
560 Section Runners up
480 Section CHAMPIONS
400 Section CHAMPIONS
Terrill Trophy Winners
Div 1 Runners up
Div 2 CHAMPIONS
Indy 140 Max Champions Tricky
Indy 140 Max Runners up Killa
Indy 100 Max Champions Brush
Indy 80 Max Runners up Persian Mat
Dudley 2 145 Max Runners up
Dudley 3 115 Max Runners up
Lightning Section B winners
Lightning Section C winners
10th Apr 19
Terrill Final
First things first.....A BIG WELL DONE TO OUR TEAM and the PEOPLE THAT CAME TO WATCH AND SUPPORT US at Olton Chess Club last night.
This was a monumental win as we had to beat Westminster 3 in the Final of the Terrill Trophy and score at least 5 out of the 6 games.
The night didn't start well as a few of us (including me) thought the start was 7.30pm but I was at the club early anyway at about 6.45pm but a few of our players were still to arrive at the start of the match. I won the dice by throwing a 5 against a 4 and had a difficult decision in deciding whether to have white on odds or evens. The dice was 7.10pm and I thought I had until 7.30pm but was then told by Singerman it starts at 7.15pm.
I was close to giving us black on odds to give Rob the best chance of winning as his was the smallest grading difference and he'd had a difficult season but I eventually went with conventionality and chose the white pieces on odds.
As it happened, During the match, I had mixed feelings about my decision because Jon arrived at 7.37pm and was about 20 minutes down at the start so Jon having white must have helped time-wise, on the other hand, Rob with the black pieces seemed to be worse for most of the game in a Nimzo-Indian against Phil Maddocks 130.
Adam and James also started a bit later but at least they weren't playing a 190 player....Westminster showed their credentials and although worse in a few games, they proved difficult opponents.
Marcus was playing Chowdhury Junior 116E but obviously much better than that...Marcus had a Ruy Lopez and advanced his g+h pawns and seemed to be improving his position. He had a good Knight on f5 and his Rooks on the h-file and I'd chalked it up as the first win on the board. They then shook hands and was surprised to hear the game was a draw. So, Westminster had 1/2 a point and on board 6, they were getting at least another 1/2 as they'd reached an endgame with a drawn Knight and Pawns against Rob's Bishop and Pawns. This type of ending depends on the pawn structure amongst other factors as to who's better. Rob had the long range advantage but the Knight can use light and dark squares which the Bishop obviously can't do. The match suddenly turned on its head, surely a critical moment, Phil Maddock blundered and suddenly Rob won a pawn race to Queen and pulled a rabbit out of the hat.
James on 2 against Lee Collier 142, surprised his opponent by pushing his h-pawn all the way to h3 and it remained a thorn in Lee's side. I didn't see much more but James converted later.
Adam won in a Kings Indian Defense I think, against G. Maciel 137. Jon's game was a Sicilian in which Jon played Bc4...He seemed to be better and had a better dark-squared Bishop...Later he had a good Knight vs M. Chowdhury's Dark Bishop.
My opponent P. Lawrence 131 played cautiously and solidly in a Pirc Defense. One of my aims was to avoid exchanges unless it was better for me and gradually manoeuvre and improve my position. I had a plus for most the game and he lost on time in a position that was better for me but difficult to play just using increments.
1985-86   2002-03      2005-06       2007-08     2011-12      2012-13      2014-15     2015-16       2016-17     2018-19
<![if !vml]>

<![endif]><![if !vml]>

<![endif]><![if !vml]>

<![endif]><![if !vml]>

<![endif]><![if !vml]>

<![endif]><![if !vml]>

<![endif]><![if !vml]>

<![endif]><![if !vml]>

<![endif]><![if !vml]>

<![endif]><![if !vml]>

<![endif]>
Hitman
3rd Apr 19
All,
Individual Finals
The finals of three of the BDCL Individual events took place at Olton last night, with two of our members involved.
In the max-80 section, Matt Smith had White against Tom Vanes of Coleshill. An English Opening was met with ...e5 and ...f5 and an even-ish position ensued. Black exchanged his black-square bishop for a knight, and Matt had long-term aspirations of pressure on the a1-h8 diagonal, while Tom was trying to move all his major pieces to the K-side. Matt had to weaken his position with h4, but the pawn was poorly defended because the g3 pawn was pinned against the king by a rook on g6, and eventually the pawn fell. This left Matt with a lot of K-side weaknesses, which Black exploited efficiently to win the game.
In the max-100 section, Joe Kadar had White against John Lewis of WQ. Joe opened with d4 and Bf4, Black fianchettoed his KB, Joe marched his h-pawn up the board, Black castled Q-side, and Joe marched his a-pawn and b-pawn up the board too. Black had chances to play ...e5, which might have left Joe's king feeling short of a home, but chose instead to keep the position closed. Eventually Joe also got castled on the Q-side, then started improving the position of his pieces before opening up the game in the centre of the board. Ironically it was Black's king that eventually turned out to be the more insecure of the two, and Joe grabbed a couple of important diagonals to threaten a mate which couldn't be avoided without massive loss of material, so Black resigned. Well done Joe – another trophy in the South Birmingham cabinet!
The third game was the max-120 final where Kevin Spillane of Boldmere defended a QGD against Paul Barrett of Coleshill. Black's position was compact but remained weakness-free, and eventually he won a piece via a cheapo, though he was developing a good edge by then anyway.
Tonight it's Tricky vs Killer at SBCC in the final of the max-140 event, while the already-promoted 2A side travels to Solihull, where a point or better will give us the Division 2 title. Faraz, Tom-Tom, John, me, Martin and Darren are leading the charge. Sean is unwell and has had to sit this one out – best wishes for a speedy recovery.
Cheers,
Tal.
24th  Mar 19
Crunch Time
This week could determine the fate of three of our teams
On Monday The Tiger Bees are at home to Boldmere for their last Match of the Season
Both Teams are on 8 Points and sit above SC on 4 and relegated WQ at the Bottom
if a draw Happens its Possible both could be caught and overtaken if SC win their last three Matches which are against WQ Hal & MC
or a Three way play off if they win 2 and draw 1
❷

P

W

D

L

Pts

Lichfield

10

8

0

2

16

South Birmingham-A

10

6

4

0

16

West Bromwich

11

5

3

3

13

Solihull

9

5

2

2

12

Shirley & Wythall

10

4

4

2

12

Mutual Circle

10

4

3

3

11

Stourbridge

10

3

3

4

9

Halesowen

9

3

2

4

8

Boldmere

10

2

4

4

8

South Birmingham-B

10

2

4

4

8

Sutton Coldfield

8

1

2

5

4

Warley Quinborne

10

0

1

9

1

On Tuesday Team Monty on 7 Points will be away to Olton A and are in the same place as the Tigers
if SC on 3 pts win two of their last three Matches which are against Bdm Rsh & Mer Monty could be caught or worse
Wish us Luck against a very tough Olton A Probably featuring Both Reynolds brothers
❸

P

W

D

L

Pts

University Birmingham

11

10

0

1

20

Olton-A

10

6

1

3

13

Lichfield

11

6

0

5

12

Mercia

8

5

1

2

11

Westminster

9

4

2

3

10

Solihull

10

5

0

5

10

Mutual Circle

9

4

1

4

9

Rushall

10

3

3

4

9

Olton-B

10

3

2

5

8

South Birmingham

10

3

1

6

7

Boldmere

10

1

2

7

4

Sutton Coldfield

8

1

1

6

3

On Wednesday in Div 2 Stourbridge Entertain Lichfield .... Joint table toppers with the Talent Squad
a single Point Guarantees Lichfield Promotion and sets the bench mark for the Talent Squad to Match or Beat for the Title

On Thursday in Div 2 Shirley Wythall Entertain Solihull, IF Solihull do not win The Talent Squad will become The Seaside........ Yay
5th Mar 19
Div 3 The wrong Bees
Most will know either by being there or the lack of bragging that Monday was not quite what Monty hoped for
for the 6th Time this season Team Monty lost by the 3½ to 2½ margin. On the one hand not bad for one of the lowest graded teams
On the other not that pleasurable when it goes on week after week, I relegated myself to Board 4 this week after a 5 game losing sequence in Div 3
As Black Spent parts of Sunday memorising the Budapest opening to play against d4, My opponent opens with e4, ...............Usually I can dig in with this but come on
......what Idiot plays Bd6 on move 3 Blocking in the Queen and Bishop. The complete mess that followed was always going to happen when playing such rubbish,
However................. it was good to see the return of the Zombie and get a draw, I should of won in the end
IF I had moved Qg3 on move 25 threatening his rook and then getting to f3 or d1 it may of all been over two moves later.
https://chessmicrobase.com/g/rlkrlnqq
Invincible done what was asked on Bd 2 and Tricky got what you know you will get from Rob a Draw
Monty have One Match left and Olton A will be tough especially... with Rob this time on a lower Bd
From below you will see as Predicted in the Uni email Solihull and Olton B have gone above us
so it's a case can Boldmere or Sutton catch us with their games in hand for a Relegation play off
We shall see
❸

P

W

D

L

Pts

UoB

Mer

OltA

Lch

Wes

Rsh

MC

Sol

OltB

SB

Bdm

SC

max

University Birmingham

8

7

0

1

14

14

3½

4½

4

1

3½

3½

5

4

20

Mercia

7

5

1

1

11

2½

11

4½

4½

3½

3

3½

3½

19

Olton-A

9

5

1

3

11

1½

1½

11

3½

3½

3

5

4

4½

1½

15

Lichfield

9

5

0

4

10

1½

2½

10

2

4

4½

4

2

4

4

14

Westminster

8

4

1

3

9

2

2½

2½

4

9

4½

3

4½

₩

15

Rushall

9

3

3

3

9

3

3

2

1½

9

4½

2½

4½

3

4½

13

Mutual Circle

8

4

0

4

8

5

1

1½

1½

8

2

5

3½

3½

14

Solihull

8

4

0

4

8

2

2

3½

4

8

2½

4

2½

3½

14

Olton-B

9

3

2

4

8

2½

1½

3

1½

1

3½

8

3½

3

4

12

Monty

10

3

1

6

7

2½

2½

4

1½

3

2½

2

2½

7

3½

3½

9

Boldmere

8

1

1

6

3

1

2½

2

1½

2½

3½

3

2½

3

9

Sutton Coldfield

7

1

0

6

2

2

4½

2

Ø

2½

2

2½

2

10
28th Feb 19
Terrill Semi
Hi All,
Last night saw a very competitive semi-final between our 1st team and our strong 3rd team which is top of Division 2 if they manage to win their game in hand. I put the 2A side as favourites to win this tie as the 1st team were without their top 2 boards and 2A only needed 2 points to win the match on handicap.
It was a strange start to the match as I left my phone at home and then there was a bus missing and whenst (new word) I was on the bus, the traffic was horrendous in places. I arrived about 7.50 and there were still 2 players to arrive. In walked Sean, after priming up for his board 1 clash no doubt. About 7.55, Pavel entered the Auditorium to have a Gladiatorial battle with TAL.
The match started and some of the games appeared to develop very quickly ....I'm thinking of Adam Szelc v Martin Smyth on board 4 in A Modern type of position where Adam had play on the queen-side and Martin had not castled. Adam got his Queen to a8 and his Knight was also causing Martin difficulties to the point that Martin missed something in his calculations and resigned.
Marcus Walsh v Leonardo Matoi on 6 was a Morra Gambit in which Marcus's pieces were active and his Rook controlled the c-file and his Bishop on b3 had a nice diagonal. Leonardo later in the game was a piece down and resigned.
Richard Mycroft v Darren Whitmore on board 3 was interesting as Richard hadn't played much recently due to the birth of his child and Darren had recently returned from a 8 year lay-off. Darren played very well in a Kings Indian position with white playing Bg2. Darren looked better with with more attacking chances and I didn't see how it finished but a good win for Darren. 2-1 to the Good Guys (sorry about the bias) 2 - 3.5 on the handicap
Pavel Besedin v Tim Lane was a French which Tim knows very well and it went with both players attacking different sides as Tim castled Queen-side. Pavel probed with a4 and I think Tim might have played h6 and g5. Once again, I didn't see the end but Tim resigned.
Board 1 was James Hanley v Sean Ralph and it looked like it was going well for Sean against the strong James who will surely reach 200. Sean never looked worse when I looked and may have been better. They both agreed a draw which meant another 1/2 a point from the last game would see 2A go through.
Board 5 saw Myself v Rob Glass and it was a Classical Pirc. Rob could have played a couple of moves which would have given him a good edge in the opening but in general, I was usually well placed especially in the middle-game. Towards the end when we were getting short of time, there was a few mistakes and Rob had a chance to draw which would have seen the 2A team throught to the final but it was a good game and and both teams would have been worthy contenders in the final.
https://chessmicrobase.com/g/a2cq59bi
Hitman
20th Feb 19
Talent Squad
Promotion hopefuls 2A visited Sutton on Monday, with both sides at full strength (July grades):
1 Soszynski, Marek J 156 vs Malik, Faraz 164
2 Lawrence, Roy A 148 vs Thomson, David 163
3 Gardiner, David 150 vs Ralph, Sean 162
4 Czopek, Wojciech u/g vs Emanuel, John L u/g
5 Mildenhall, John 153 vs Lane, Tim A 161
6 Dhesi, Iqbal S 145 vs Williams, Simon A 152
The evening started unexpectedly smoothly, as we eased into a three-nil lead. Sean has already posted his smooth positional win against David Gardiner. Simon played a similar game against Iqbal Dhesi, maintaining the initiative all evening and eventually picking up a couple of pawns, and then the exchange, before resolving into an easily-won K+P endgame. I was slightly worse all evening against John Mildenhall but, trying to play quickly to keep me under time pressure, he stumbled into a nice mate by Q+N. I'll post this later.
Elsewhere, Tom-Tom's game looked, as usual, murky, tactical and complex, though I gather from later comments that he was worse all evening. Anyway, he eventually succumbed to a rare defeat.
At this point the evening started getting stressful. Faraz, playing Black against Marek Soszynski, had grabbed a hot pawn on b2 and soon found his Q incarcerated on a1. I thought he was a goner but, a long time later (after my own game had finished), I found to my delight that Faraz was still with the living and, indeed, was a couple of pawns ahead. As time trouble loomed (all moves in 90 minutes) he won more material and soon had R+R+B vs R. Marek was bashing out the moves as quickly as possible, but Faraz was still keeping score. Rules update: you don't need to keep score in a quickplay finish when you have fewer than five minutes remaining! The position would have been a straightforward win with a few more minutes left, but the task of delivering mate and/or getting rid of all of Marek's material (to ensure a draw) proved too much, and eventually (having abandoned the scoresheet) Faraz lost on time. After the game it was generally agreed that Marek had made an illegal move along the way (a diagonal capture of a pawn with a rook!) but, in the absence of the score, it was impossibly to verify this.
So that left John. By the time Faraz's game had finished, John's had also reached a crisis. His opponent had made an illegal move and the clocks had been stopped, in order to find somebody who knew how to add two minutes to John's clock. John, incidentally, had 45 seconds left at this point. In the confusion I thought John's opponent had offered him a draw. "Take the draw!" I screamed (inwardly). "We're 3-2 up and you've got 45 second left on your clock!! Take the draw!!!" In fact I had got the wrong end of the stick and it turned that it was John that had offered the draw, just prior to his opponent playing the illegal move – the opponent was now trying to accept! Eventually calm was restored, the draw agreed, and we ended up winning 3½-2½.
We're second in the table (or top, using my preferred point-dropped calculation) with three matches to go.
Here's my game, with some very light notes.
https://chessmicrobase.com/g/wvfjnbqn
Cheers,
Tal.
14th Feb 19
Talent Squad
Chess players,
Last night's Division 2 fixture between Boldmere St. Michael's and South Birmingham "A" was one of the most one-sided matches I've played in.
We were at full strength while, in an early-evening boost to our hopes, we found that BSM were missing their regular Board 1, Tony Hickey.
The sides lined up as follows (July grades)
1 Thomas, Keith (150) vs Malik, Faraz (164)
2 Lake, Andrew N (145) vs Thomson, David (163)
3 Farley, Richard (145) vs Ralph, Sean (162)
4 Loach, Peter L (135) vs Emanuel, John L (u/g)
5 Harrington, Michael J (135) vs Lane, Tim A (161)
6 Fryer, Stephen M (121) vs Whitmore, Darren H (u/g)
I try to fill these accounts with (genuine or manufactured) suspense, but in this case it's just impossible – we were 5–0 up by 9.25pm. Darren won in about an hour, depriving his opponent of the right to castle and then picking up a piece on the c-file with a small combination. John was next, meeting a Leningrad Dutch with an h-file attack (h5, Nxh5; Rxh5, gxh5; Qxh5+) and soon delivering mate, though Black missed a defence which would have kept him in the game. By this time Faraz was a couple of pawns up against Keith Thomas, Tom-Tom's opponent had saddled himself with doubled and isolated e-pawns, and I had a highly mobile position against Micky Harrington. I think Faraz finished next, though I didn't see the end of the game. My opponent's position fell apart in dramatic fashion on the black squares, which was odd because he had a black-square bishop and I didn't. This was at about 9:15pm, and I was still exchanging pleasantries with my opponent ten minutes later when Tom-Tom won too. 5–0 to South Birmingham!
That just left Sean to play for the clean sweep, but his position was very draw-ish. I had to get Darren back to Sparkhill, so I delegated the remaining administrative duties to Tom-Tom, who was taking advantage of the venue being only 0.7 miles from his home to enjoy a beer at the bar, and made my escape. Eventually a text came through at about 10:55pm (glad I didn't stay!) to say that Sean had indeed drawn, giving us victory by 5½–½.
Division 2 table in "points dropped" order:
| | | | | | | |
| --- | --- | --- | --- | --- | --- | --- |
| Team | Play | Won | Draw | Lost | Points | Dropped |
| SB A | 7 | 4 | 3 | 0 | 11 | 3 |
| Lichfield | 9 | 7 | 0 | 2 | 14 | 4 |
| S & W | 8 | 4 | 3 | 1 | 11 | 5 |
| Solihull | 8 | 4 | 2 | 2 | 10 | 6 |
| MC | 9 | 4 | 3 | 2 | 11 | 7 |
| Halesowen | 7 | 3 | 1 | 3 | 7 | 7 |
| WB | 9 | 3 | 3 | 3 | 9 | 9 |
| Stourbridge | 9 | 3 | 2 | 4 | 8 | 10 |
| SC | 7 | 1 | 2 | 4 | 4 | 10 |
| BSM | 8 | 1 | 3 | 4 | 5 | 11 |
| SB B | 10 | 2 | 4 | 4 | 8 | 12 |
| WQ | 7 | 0 | 0 | 7 | 0 | 14 |
On Monday we're away at Sutton Coldfield. Remaining fixtures after that are S&W, Halesowen and Solihull.
Tal
12th Feb 19
The Life of a Captain
Friday I was a player short for Bd 6 in the Relegation crunch Match with Sutton in Div three 
Mr. Brush was Nominated
Saturday the call went out to Team Monty
Hi Team
Monday is a very important Match......
if we are to avoid Relegation we need something from this Match so no Pressure just don't lose.....lol
Because this Match is very Important we have saved our best until now...........so
Joe the Brush Kadar has been selected to be our Super Sub on Bd 6
as a bonus Joe will be presented with the bottom half of his trophy and rewarded with a Pint.
Okay Joe...........
Team line up will be in January Grade Order
Tricky 134

Killa

133

Singerman

131

Domino 121

2 Cars 120

The Brush 113
See you Monday
Sunday Lunch time I switched on the Pc and it started...
10.26am I had had an email from Joe Brush saying did I get his email ??????????? I had not
12.00 noon I replied no only this one what did it say?
13.00PM No reply so I gave up and rang him.. he said he cannot Play Monday...Okay I said do you have Paul The Nurse Mobile.... Yes he said I will email you it?! Cannot see it while I'm on the phone
13.43PM email with Unreadable attachment..... I guess you need Joe's Phone to read the format
14.10PM I replied .. Joe just type the XXXX Number
14.28PM I get it and Phone the Nurse. Mobile..... goes to Network Answer Message.. leaves Message
15.00PM he calls back sounding Shit, Sorry I have what you had at the Rapid Play (Man Flu) do not think I will make Tomorrow
15.12PM Email to Underlay can you play................ thought I better give it a bit for reply went out for a bit
20.30 PM still heard nothing
20.45PM calls Tricky for some Numbers
21.00PM calls Underlay's Mom's Mobile.....goes to Network Answer Message.. Leaves Message
21.30PM Calls Roys Home Number........Not recognised ???
21.31PM Calls Roy mobile Number.....goes to Network Answer Message.. Leaves Message
21.50PM getting a bit desperate thought on the off chance I would try Rails........goes to Network Answer Message.. Leaves Message
Waiting for replys has now left it late to ring anyone else. Unless your called windows
May have a window of opportunity after 17.30PM When I get home tomorrow (Vish) was next on the list
Kitty and Invincible have already played their quota so cannot really use them ......
22.30 Phoned Windows ...........says he will Play if he has to try Persian Mat he is playing better...
22.40 Phoned Persian Matt ...Guess........Correct.....goes to Network Answer Message.. Leaves Message
1500PM Monday from work I spoke with Team Co Partner by Email he says Roy will Play..........Hallelujah we have six Players
So at 7.30 the following team Lined up
Tricky 134

Killa

133

Singerman

131

Domino 121

2 Cars 120

Roy Gough 109
Guess What
SC3 Defaulted the Bottom Board

In a Nut shell the match was at 2½ each with just Our Board 1 Playing against Rob Marks
Tricky eked out a pawn advantage looking the better and Won on Time WOW
Although we are not Safe yet its looking a little better
<![if !supportLineBreakNewLine]>
<![endif]>
❸

P

W

D

L

Pts

University Birmingham

7

6

0

1

12

Mercia

7

5

1

1

11

Olton-A

9

5

1

3

11

Rushall

7

3

1

1

9

Mutual Circle

7

4

0

3

8

Lichfield

8

4

0

4

8

Westminster

7

3

1

3

7

South Birmingham

8

3

1

4

7

Olton-B

7

2

1

4

5

Solihull

6

2

0

4

4

Sutton Coldfield

6

1

0

5

2

Boldmere

7

1

0

6

2

Well played guys especially Roy for turning up and getting the point.....
Thanks to Windows for being there and setting the Boards up... oh that reminds me
Shortly after I said make sure your Phones are off and Start whites Clock .........
we all made a move and Tricky said "Can I start again" Not sure who is getting the Googlies Trophy
for setting up Board 1 the wrong way round.

<![if !supportLineBreakNewLine]>
<![endif]>
5th Feb 19
Cup Draw R4
Having two of the four teams left in the Terrill it was always going to be a tall order for them to Avoid each Other,,,, The didn't they came out as follows
Westminster 3 Vs Sutton Coldfield 1
South Birmingham 2 Vs South Birmingham 1
Div 5
Monday Night Five Played their Socks off against a very experienced Sutton Coldfield 5
with Double Indy 5 winner Chris East and ex Tamworth Div 1 Peter Oliver
Watched some great Games and a lot of cool heads for us The Future is Good...
Wins for
Vish        B1
Persian Mat B2
Chandaras B3
Daniel B4
and New Guy Chris Moore B5
The Clock beat Windows... B6 it was all over by then
Chan was swapping off and a couple of pawns down........never bothered him just kept looking for the Silver Cloud and found it
Mat Smith decided he had to many Knights and gave one away... this Must of focused the mind when I got back from the bar he had the other guys Big Girl.....
Daniel Brooks Played a very solid reserved Game ,He made sure he Promoted Pawn with Check and then Mated while his opponents pawn was waiting on the seventh
Chris Moore also played quite solid and went home Happy after his first ever across the Board Competitive match.
Well done guys.......
30th Jan 19
Dudley 1
SKY SPOrts decided against Liverpool v Leicester tonight and moved their cameras to a cramped room in Moseley and sports fans nationwide were not to be disappointed!
In the prestigious U176 div one Dudley league, Sutton came to visit the reigning super champs, South Bham.
(I was very confused as they weren't Olton who I've played 3 times in 3 weeks...)
Marcus v Marek, me v a Polish chap we didn't know, Thommo v roy 'lazza' lawrence, ans Sean 'g5 0-1' ralph v Robert (richard?) Marx, (who was right here waiting for him?).
I played a line that I think surprised my opponent as it seemed to give up a piece on move 4. it didn't and i got a nice position.
Sean - having proved to the chess world that an early g5 with black generally wins, decided to to give his opponent and even bigger surprise, taking his early flank attack to the limit with 1....h5. this is not a typo...
Marek decided to play the 'ultra-hippo' v Professor with pawns on a6, b6, c6, d6,e6 and g6. Marcus slowly built up a space advantage...
Thommo seemed to play an open sicilian type game v Lazza and seemed to have an opening edge.
All was set for the drama to unfold.
First excitement was with my opponents confusion in my opening, he forgot when castled q-side and a q on d2 to get the king to b1... cue my dark squared bishop to skewer everything. queen up to the good guys. he played on a while but 1-0.
It was about 9 hours until the next game finished I think.
Sean, after h5 failed an outright win, shoved a rook on h5 and a pawn on g5 (-/+?). he had a fractured position but his rooks were more active and he took the initiative into an endgame.
Marcus meanwhile, showing his smarties in the M v M match (boom boom..) took a pawn and got a dark square behind. Things were looking good at this stage....
Thommo got to an endgame with r+n each and two pawns each on opposite sides...
Sean tried to win and got to r+p v r, but king in wrong position. Sean confused his opponent further by offering his hand at this point without offering a draw, but it seemed to work 1.5 - 0.5.
Marcus meanwhile had got an exchange but seemed to be blocking the position a bit for his rooks...
Thommo was pushing pawns and getting complex with r and h pawn v rook and b pawn both flying down the board.
MArcus meanwhile was going astray, his king pinned to a backward c pawn allowed a knight fork to the rooks. Marek's king was in a much better spot though... 1.5 - 1.5.
Down to Thommo....
It looked like it would be r v h pawn and maybe drawn, but somehow it was r v q.
Thommo showed great technique to force black into a corner. Lazza tried to fend off mate with an attempted stalemate. however his rook left a sqaure for the king!!! all Thommo had to do was take it and the match was ours... but he didn't....
about another 20 moves and a similar position arose. this time the stalemate worked!!! 2-2!!!!!!!! The crowd went wild!
Sky sports will be showing highlights for years to come....
Diamond Geezer
22nd Jan 19
Dudley 2
Monday Dudley 2 Played Halesowen in the Dudley Div 2 Fixture tonight
As with recent previous Mondays the MASC club was holding another one of their Actions in the hall, to be fair I never heard anything this week, so either I have gone Deaf or they behaved them selves,
Our opponents have not lost or won any of their three previous Matches so I was hoping we could overcome them but we would need to be full metal jacket....
Tricky went with the White bits and gave me a break from Bd 1 so he found himself up against Halesowen own Cream, Andy Ambrose, I played Bd2 Vs Don Curry who I beat in the same match last year,
Invincible Mat played Bd3 against sharp tactics Paul Evans and Killa was Bd4 against up and coming Junior Silas Bowcott Terry ..
In finishing Order Invincible as white had castled King side and some how lost the G & H Pawns which allowed His opponent to force repetition in a very quick affair...... ½ - ½
the next was Tricky who having looked round the boards accepted a Draw offer .... 1 - 1 not long after I heard Killa refute the draw offer from his young opponent, and again and again, and.....Won Yay.... 2-1
Now all eyes on the main attraction......
https://chessmicrobase.com/g/7vrs2ihg
15th Jan 19
Townshend R3
After a Bye in the second round, yesterday Team Monty Travelled to Deepest Minworth to take on the Arch enemy.... Again………
Having been beaten in the first round by the League Champions SC1 we hoped for a better fist of it this time against SC2
Obviously my opponent last time Henrik Stepanyan must of told them what a great threat $ingerman 135 was so taking no chances they lined me up Neil Owen 170.
As the Div 3 Board 1 this season I knew it was going to be a tough ask by my standards but I'm sure somebody as turned the wick up,
To date I have played Mr Mycroft 187, Henrik 210, Andrew McCumiskey 184, Neil Owen 170 and next week I take on Westminster's Mohammed Chowdhury 171. Then some 200 Uni guy.
So far I haven't got anything...... But for all that I love it.  SC2 needed to score 4 to overcome the Handicap, the games did not finish in board order but that's how I'm telling it
Bd1. I managed 50 Black moves against Mr Owen and he did say I played well, and offered me a ………drink, What a nice guy..... 1 - 0 to them....
Tricky 131 opted for white so Played Bd 2 against the guy I thought I might get Marek Soszyinski 156, as the home team Sutton do not play Increments and Tricky lost on time.
Derek the Domino 136 on Bd 3 did what he does best and ground out a draw against the very experienced John Mildenhall 153 .... 2½ - ½......
This weeks Guest was Invincible Mat yet to have number but it is likely to be a decent one when he does, an excellent draw against David Gardiner 150 3 - 1
Killa 126 on Bd 5 played Roy Lawrence 148 the game looked very even with threats from both sides, as the home team Sutton do not play Increments and Killa lost on time. 4 - 1
2 cars Mat 126 on Bd 6 ground out a draw against the very experienced Iqbal Dhesi 145 4½ - 3 with the Handicap.......
In Summary 922 SC2 was too much for 790 SB3 and the control time was also a factor rather than just the Grade difference........
Keep your chins up lads we go again next week
4th Jan 19
Bees
the mighty title challenging 1B team, the top SB team in div 1 still!, faced a tricky trip to warley Q last night.
I was being ultra smart, having just played them before xmas at their new, much nicer venue in a pub upstairs room. So i drove there, walked in and found myself in the middle of a slimming world meeting for the 'fuller figured' ladies of Halesowen... a chess venue this was not...a quick text to captain Cory found WQ at their old venue and i was there in 5 ready for KO... nothing was going to get any more exciting than that, or was it???
Rob 'put me down for a half' Glass was first to finish with his 213th draw on the trot. Cory had written this in before the match started though.
Dave 'Destroyer' Dunn had a good active position from the opening and got a pawn up, but his opponent got a central king in the end game and secured a draw.
Andy Southall tried to wipe Cory 'draw with an IM' Hazlehurst off the board, saccing an exchange with 10 mins on his clock used. looked tricky, but Cory gave back the material and a simple looking draw followed - 1.5 - 1.5
the next three games all finished in a minute of each other at the ungodly time of 10:30. I had offered a draw abiut half an hour before v agnew in a stodgy game, but he had to play on due to match situation.
he got some activity as the position opened but missed my wild shot pushing a pawn. he had two pawns for a piece.
Meanwhile AMJ was winning a tactical position v Steve Smith - my opponent seeing his chances to win gone and down to a minute offered me a draw. I looked up at Captain Cory for match advice, but he was already grabbing my hand and giving it my opponent to shake - a draw was enough then with AMJ converting.3-2 with prof to go.
Now Prof had revenge on his mind - having had a rare reverse in a grand prix sicilian v WQ in dudley league at their old slimming world venue pre xmas, he had a similar opening again - looked a see-saw type game with pieces everywhere. I am told he was a bit better when Mickey Singh lost on time - revenge for the Prof!!
4-2. relegation is not a word we utter now in the 1B camp!
Diamond
20th Dec 18
Div 1
Hi All,
I'm sure most of you will know the result of this match now, another agonising 2.5 - 3.5 defeat between 2 very strong sides. Our average grade was 201 against 197 for Sutton. I have always advocated that we win as a team and lose as a team but I have to say that I really felt a huge responsibility for this defeat in losing a game where he blundered in the opening to the extent that he lost his queen for minor pieces. My erratic play and results since the summer may have been contributed to by some serious health problems in the summer but it was very disappointing to lose in such a fashion.
Boards 4 and 5 were our boards of strength and we only scored 1/2 a point.
I arrived early at the venue with Marcus, who was a late replacement for Richard, and my thoughts were on whether IM Ghasi 255 would play after the previous day, he had been in London completing a 9 round tournament where he was unbeaten with 7/9. About 20 past 7, in walked IM Ameet Ghasi and I knew it would be a tough task. I had a feeling that our own board 1 WGM Kata Toma 224 would relish the challenge though.
Sutton decided on a Quickplay finish with all moves in 90 minutes and 1 or 2 games were affected dramatically by this time-limit.
On board 5, it looked like a KIng's Indian Samisch with Pavel 191 looking to have a decent position with his knight on c5 and pawns on b6 and d6 ...I don't think Keith Escott 172 started a king-side pawn storm early and the result later was a draw.
My game on board 4 was a Ruy Lopez Schliemann Defence and Neil Owen 170 blundered on move 6 after the following 1.e4 e5 2.Nf3 Nc6 3.Bb5 f5 4.d3 Nf6 5.Nc3 Bb4 6.0-0 d6? 7.Nd5+- Nxd5?? 8.exd5 a6 9.Bg5 (9.dxc6 is even better) 9...axb5 10.Bxd8 Nxd8 and so a Queen for 2 pieces. How did I lose? I blundered on move 26 but it was still levelish after the blunder but I blundered again on move 28 and it was losing.
Jon Swindells 211 played T. Sygnowski 206 and it looked like a Kings Gambit where both players hadn't castled some time in to the game. There didn't seem to be much in the game late on though Jon had less time and it was getting serious on the clock with no increments and about 1 min 40 secs left to 4 mins of his opponent.A draw might have been possible with more time but it was a long way off and no way his opponent would have offered or agreed to one.
On board 1, WGM Kata Toma 224 was black and played a Pirc against IM Ameet Ghasi's 255 Fianchettoed king-side Bishop and Kata attacked the centre with ...c5. She had a couple of doubled pawns but was not short of play herself. Towards the end of the game, they had opposite coloured Bishops and a Rook and a few pawns. I didn't see the end of the game but Kata lost but it was great to have her playing and to see her again.
John Pitcher 214 played a Bishop's Opening and I didn't see a lot of his game against H, Stepanyan 210 who, we were told, hadn't lost in the Birmingham League for 4 years. A good game ensued in which both had a rook attacking each other's pawns and apparently the dreaded time-limit also affected this game....good win for John though....
Marcus Walsh 172 had a Sicilian played by G. Ali 169 and Marcus eventually created a passed pawn on the king-side though Golam as usual made Marcus work hard and time was getting short again I believe but Marcus kept things under control to win....
Hitman
29th Nov 18
Dudley Div 2
Tonight Dud le Monte Travelled to Tal,s Backyard for our 5th Fixture out of eight in this Dudley league against Boldmere the teams lined up as follows
Mike Biddle 132 Vs Singerman 135
Arthur Kent 124 Vs Tricky 131
Kevin Spillane 119 Vs 2 Cars 126
Dave Guinness 111 Vs Killa 126
Killa got the Ball rolling with a quick win, Singerman as Black in his trade mark rubbish cramped opening Tempted everything and hung on ....
was offered a draw after move 35 with my opponents 12 minutes to my 30 odd with 2R N + 4 Vs 2R B +6
I consider myself a Tad fortunate, I was going to win at least one P back with the Advanced King 1½ - ½ to us....
2 cars bagged the points soon after with a good win however we think his opponent may have been under the impression they were playing Increments,
which me and tricky were, 2 cars noticed their clock was not ....... and moved accordingly and mated ...his man
Tricky was last and looked to have the Tricky Game....... which with Increments of course suited him ½ - 3½ to Dud le Monte , WELL PLAYED GUYS
Singerman
22nd Nov 18
Terrill R2
Last night a combined 2A/2B side took on the might of Solihull's Division 1 side. In last season's Solihull vs South Birmingham league fixture, Solihull had fielded a side with an average grade of exactly 200 (Jackson/224, Daskalov/223, Surtees/197, Head/196, Thorpe/185, Hurtado/176 – 1201 points to be exact). Would they field their big guns for the Cup match?
Luckily they didn't, and we lined up like this:
1. Hurtado, Philip (180) vs Tom-Tom (163)
2. Sadler, Anthony (170) vs Sean (162)
3. Summerfield, Julian H (159) vs TAL (161)
4. Carpenter, Raymond (152) vs TOGITC (153)
5. Brodie, Iain (150) vs Darren
6. Roper, Paul (144) vs Leonardo Matei
As this was a Trophy match, we had a 2½-point handicap in our favour, meaning that any result better than a 4½–1½ defeat would see us go through to the next round.
On Board 6, Leonardo was playing his first game for the club. I only managed one brief glance at this game, where Leonardo had built up an impressive-looking attack and most of Black's pieces were on strange squares. Ten minutes later it was all over and Leonardo had recorded his first win – welcome to South Birmingham.
Boards 4 and 5 also started promisingly for us. Darren played a Benko Gambit which initially looked fairly even, but some time later he had won Q for R+B+P. I wondered if White could construct a fortress, but Darren had an outside passed pawn and looked to be favourite. On Board 4, Martin startled Ray Carpenter (and everybody else present) by playing a recognisable opening – the Petrosian System against the King's Indian. Martin opened the h-file and he too won his opponent's queen in return for some small change.
On Board 3, I was black against an English Opening. The position stayed largely symmetrical (c4 and e4 vs c5 and e5) and I got a good knight on d4. My opponent surveyed Boards 4 and 5, decided that the match was not going Solihull's way, and offered me a draw, which I took.
Board 1 had started off as a Trompovski and then veered into Semi-Slav territory. Tom-Tom looked to be comfortably holding the position, but I made the mistake of going to the bar for ten minutes and, when I returned, he had been out-manoeuvred and had to resign. Match level, but the handicap meant that just one more draw would suffice.
Back to Board 5 where Darren's opponent was putting up a good fight, advancing his limited forces into Darren's position to try to construct a mating net. Darren kept out of trouble and pushed his passed h-pawn. White's rook had to move to an undefended square to stop it, and after a couple of checks the rook dropped off, giving Darren the game.
Martin's opponent also wriggled hard and actually managed to restore something close to material equality, but at the cost of entering a dead-lost endgame – 3½–1½ to South Birmingham. So we didn't need the handicap.
That just left Sean vs Tony Sadler, which was a Hippo where, if I remember correctly, seven of Black's first eight moves were pawn moves (g6, d6, a6, b6, e6, h6 and g5 – he spoiled the effect by playing … Nf6 too). Sean got into a spot of bother and lost the exchange, but then drummed up an attack and ended up with N+N+3P vs R+P. The two knights and two of the pawns were in a mutually-defending configuration in the middle of the board and, in that form, they marched into Black's position. Black's rook was a spectator and White soon queened a pawn to end up with Q+N vs R. Black was playing for stalemate and Sean had only about 30 second left, but he stayed cool and eventually delivered mate.
So, 4½–1½ to South Birmingham (7–1½ with the handicap) and, as Martin said in the car on the way home, we'd have won the match even if the handicap had been in their favour, not ours!
Cheers,
TAL.
14th Nov 18
Two Dudley games have taken place this week with Mixed fortunes
1st on Monday ....$ingerman, Tricky, Domino & Killa .in the Dud le Monte Team.
What looked a reasonable Line up for us (it was the Highest Grade Total we have put out in Dudley Div 2 so far) ................ came unstuck against the Strong Kidderminster Ringers
Me on B1 got the opponent I expected and had him cramped and gasping for moves... However I could not see how to wrap it up....
believing I could crack the fortress I battle away, when in hindsight I should of offered the Draw.... he eventually broke out and got me %$£"*
It was the second defeat in a row where I had lots of play as white in the English Opening, and I really enjoyed the games except for the final outcome,
Terry on Bd2 and Killa on Bd4 came up against two Ringers...... you should know what that means by now... for those who don't
It is players who appear to have no grade or traceability suggesting that they have little experience when in fact they have a hidden past, James O'Dell has returned from many years in Spain
and played precise fast chess in which our experienced Tricky hung on for dear life......... Remi Harris on Bd4 also showed skill and no hesitation when beating Killa ..... My opponent let it slip he had won their club tournament
Derek the Domino did what was asked on Bd3 against Mike Kitchen... we have now P4 W2 D1 L1 and the door has opened for the chasing pack, with Kidderminster now looking like the ones to beat.
| | | | | | |
| --- | --- | --- | --- | --- | --- |
| 2018-19 Div 2 Teams | Played | Won | Drawn | Lost | Points |
| South Birmingham | 4 | 2 | 1 | 1 | 5 |
| Kidderminster | 2 | 2 | 0 | 0 | 4 |
| Warley Quinborne | 1 | 0 | 1 | 0 | 1 |
| Boldmere St Michael's | 1 | 0 | 1 | 0 | 1 |
| Halesowen | 1 | 0 | 1 | 0 | 1 |
| Mercia | 3 | 0 | 1 | 2 | 1 |
| Stourbridge | 1 | 0 | 1 | 0 | 1 |
| Mutual Circle | 1 | 0 | 0 | 1 | 0 |
| Bushbury | | | | | |
Next DD2 Away to Boldmere 28/11
Next Monty Home to Mutual 3/12
South Birmingham - Kidderminster

Division 2

Board

Home team

Score

Away team

1
2
3
4

Alan Woollaston
Terry Walker
Derek Stockhall
Simon Killarney

0 - 1
½ - ½
1 - 0
0 - 1

David Waud
James O'Dell
Mike Kitchen
R Harris

<![if !supportMisalignedColumns]>
<![endif]>

Tuesday was a different Story, Nurse, Brush, The Persian and Windows got themselves to Sedgley middle earth land of Mercia.
The Nurse Brushed the Broken Window under the Persian Mat 1-3 and the Double Champions of Dud Div 3 March on towards the Treble with 100% after 3 BRILLIANT
| | | | | | |
| --- | --- | --- | --- | --- | --- |
| 2018-19 Teams | Played | Won | Drawn | Lost | Points |
| South Birmingham | 3 | 3 | 0 | 0 | 6 |
| Halesowen A | 2 | 1 | 1 | 0 | 3 |
| Mercia | 3 | 1 | 0 | 2 | 2 |
| Warley Quinborne | 1 | 1 | 0 | 0 | 2 |
| Walsall Kipping | 2 | 1 | 0 | 1 | 2 |
| Halesowen B | 3 | 1 | 0 | 2 | 2 |
| Stourbridge | 3 | 0 | 1 | 2 | 1 |
| Mutual Circle | 1 | 0 | 0 | 1 | 0 |
Next DD3 Home to the Halo's A 5/12
Mercia - South Birmingham

Division 3

Board

Home team

Score

Away team

1
2
3
4

Stuart Deeley
Chris Heathcock
Alan Cox
Tony Lowke

0 - 1
0 - 1
1 - 0
0 - 1

Paul Heeney
Joe Kadar
Tony Szatanik
Matt Smith
10th Nov 18
Div 1
Hi All,
Last night saw us play the newcomers of Division 1 at their place which turned out to be a nicely sized room upstairs in the Alvechurch Sports and Social Club. John had never played against Redditch and it's been many years since I played against their team in a competitive match. John and I arrived early and we chatted with a couple of players who were talking about how they were big underdogs in this match...I quickly reminded them of their thrashing of Shirley and said we were taking them very seriously.
The 7.15 start didn't materialise and by 7.30, I noticed a missed call from Pavel who had yet to arrive. Whilst returning the call, Pavel thankfully arrived up the stairs.
We out graded their team heavily but one or two of their players might be under their actual standard...Especially the board 6 that played Tim.
The match started and we certainly seemed focused and didn't underestimate Redditch, we gradually got on top in most games and it was only Tim's, when I looked which wasn't easy as they were playing in the corner, which appeared to be difficult to assess.
Interestingly, we won 3 with black but only 1 with white....I recognised the opening in Richard Mycroft's game on 5 v S. Russell Ug, it was the Austrian Attack in the Pirc. Richard played ...Nh6 which I am always worried about playing as it can be out of play for a long time. Both players attacked on opposite wings but whites king was on d1 at one point whilst Richard had won a piece and his opponent played a rook to e1 attacking a bishop with another black bishop behind it. Richard played the crafty ....Re8 and if white takes the bishop on e5, if I remember correctly, Richard's other bishop would take a pawn on g4 with check and uncovering an attack on the rook on e5 by his rook on e8.....NICE! 1-0
John Pitcher won on board 1 v D. Lambourne 181 in a English Fianchetto where his opponent lost a couple of tempo in misplaying the opening. Jon Swindells, on board 2, always had the ideas and options in a Pirc where Jon delayed d4 and had pawns later on d4, e5 and f5. The black kingside became weak which proved decisive. 3-0
Pavel's game was a type of French, I believe. He built up a nice position with light square weaknesses for his opponent and it looked a matter of time for Pavel to put the game to bed. His opponent hung on determinedly and the next I heard, they'd agreed a draw. 3 1/2 - 1/2
I will add a link for my game on board 3 but it was a Modern Defence and there was a bit of history behind my change to the Modern. I've played Nigel Towers 164 a few times and he once had coaching by IM Robert Bellin and learnt some ideas against the Pirc with the Austrian. I therefore delayed ...Nf6 and took the game in a different direction with an early ...c5. I never really relinquished my control of the game but made a couple of inaccuracies when my opponent had seconds left. He could have drawn with best play but would have struggled with not much time left I would think....4 1/2 - 1 1/2
Tim Lane on board 6 played Harry Evans 134 in another type of English Fianchetto. Time had a bind with pawns on c4 and e4 but consequently, his opponent had control of the d4 square and the game eventually ended a draw. 5 - 1
A great win which puts us top of Division 1
Hitman

5th Nov 18
Div 3 Fireworks
In another Monday night Clash the Undefeated Rushall took on Undefeated Monty, at the Bowman Pub,
It gives the appearance of the type of place you would be attending if you was after some other substance
rather than Drink...... I arrived 10 mins late with the clock showing 5 mins elapsed for me.... Not one to be hurried I went the Bar......
The rest of Monty were already deep in Battle.......... with no Tricky this week the teams lined up as follows
            Rushall Monty
Devan

Patel 158 $

ingernan

the Zombie 135
Alex

Pready

154 Domino 136

Steve Wilcox 152 Invincible ???

Peter Leary 138 2 Cars 126

John Grant 131

Killa

126

Davis Jarvis 102 Kitty 102
So a slurp of beer and of we went 1. d4 d5 2. Nf3 Nf6 3. c4 c6 4. cxd5 Qa5+ 5. Bd2 Qxd5 6. Nc3 Qd8 7. e3 e6 8. Bd3 Bd6 9. O-O O-O 10. e4 Bc7 11. e5 Nd5 12. Bxh7+ Kxh7 13. Ng5+ ......
He now has mate in two if I duck back behind the Pawns........
we have been playing less than 10 minutes Time for the Zombie if I am to survive this ..... Kg6 this Kings ain't hiding from nobody and Leads the Troops in to Battle
14. Qg4 f5 15. Qg3 f4 16. Qg4 Qxg5 Take that 15 minutes now gone I'm two pieces up and the locals have Fire crackers going off all around...... play contiues
17. Qxg5+ Kxg5 18. Nxd5 cxd5 19. g3 Kh5 20. Bxf4 g5 21. Be3 Nc6 22. Kg2 Bd7 23. a3 Bb6 24. Rfd1 Be8 25. Rac1 Bg6 26. Rc3 Na5 27. b3 Rac8 28. Rdc1 Rxc3 29. Rxc3 Nc6 ............
around 30 minutes and his white Flag is Raised .........Zombie Bites Again........ He must hate me..... I luckily done him two years ago, The Captain has shown the way ............. 0 - 1 SB
Feeling Smug I had a walk round. They haven't read the Script... 2 cars had his Big girl missing and was not looking happy..... Domino had a bishop missing ......... Invincible and Kitty looked to be Drawish......
Killa looked better.... A rook to Bottom supported by Queen Check.... king moves off bottom and Killa picks up the far rook .... This was enough to swing it and restore Our Lead....
2 cars had already run out of gas without the Big Girl 1-1 Killa  makes it 1-2  to SB ...Domino to be fair tried to make a fist of being a piece down but Alex levelled the scores 2- 2 now at this point I thought Invincible has a draw but
what will Kitty do?? It looks even but he has only 14 mins to DJ's 28 he offers the draw.....yes I thought good man.......NO ...DJ declines..... and to add on the pressure..Steve forever Rushall Wilcox has pulled the Plug and a rare moment
is taking place…… Our Invincible is no more and has lost... 3 - 2 .......ouch. What can I do...... What can I do......... Kitty needs some Inspiration
got it...........
On Fire works Night ....You need A big Bang theory of Course
Soft kitty, Warm kitty, Little ball of fur.
Happy kitty, Sleepy kitty, Purr Purr Purr
Well Played that Cat grace under pressure sacked his advance pawn to drag his opponents king to the wrong side while Kitty gets his king over to the pawns first 3 - 3 followed.....
Great overall Score guys massively out gunned but we did not fall........ Played 3 Won 2 Drawn 1....
$ingerman
5th Nov 18
Mighty Shirley against lowly Bees ends in 5-1 drubbing.... with a twist...
Div 1
Against the 2012-13 champions and perennial challengers this was always going to be a tough task for Cory's Crusaders, despite the amazing win v Sutton C. lightning couldn't strike twice as they say...
We started well with all six of us turning up and being full strength.
they were missing Mason and Briggs but still formidable with experienced reserves.
all started well with Adam having a draw almost out of the opening on board one.
0.5 - 0.5
other games were unclear - but in the battle of the Dave on 6, our own Dave (Dunn) grabbed an early pawn... could he be the next to finish??
I played Dale on 5 - I play him at least once a year with the last 8 times or so being black. finally had white and ironically got him in a huge bind on dark squares with a bishop on e5, pawn on d6. a technical win followed... 1.5 - 0.5 (some of you may be spotting the twist now....)
AMJ was next to finish - what started as a positional maroczy bind style game exploded into a flurry of tactics, then like a bonfire night firework crashed out in a big bang - AMJ's rocket exploded in Purcell's position... 2.5 - 0.5.
In the battle of the 'experienced' members of each team on bd 4 - ingram v walsh, everyone expected a nice solid positional fight. instead we got hagler v hearns....
about 18 moves of blow for blow tactics that alpha zero couldn't work through. no one bothered with material, just the knockout blow - this wasn't going to the scorecards on this explosive 5th of november.
Ingram tried a big swinging left with his knight attacking the rook, but a devilish right cross with a check by the queen and it was all over, Ingram out for the count. 3.5 - 1.5, win secured.
Captain Cory had hardly started his position it seemed and they took a drew 4-1
Dave Dunn finally converted his pawn with a good technical end game about 30 minutes after the rest had finished... 5-1.
YES!!!! 5-1!! to us!!!! Against Shirley!!!!
Diamond
2nd Nov 18
Div 1
Hi All, A fairly straight forward win for the 1st team on Wednesday against a much under-strength Bushbury team. They were missing IM Laurence Cooper who was ill. L. Grinsell and R. Parry of their regular players also couldn't play.
I was struggling with my health on the night and recently in general so I didn't see the games as much as I usually do so it's not a in depth report but despite Bushbury being vastly weaker than ourselves ..They amazingly finished with a plus on the top 2 boards. Their top 2 players were graded 172 and 163 against our 214 and 211.
Their bottom 4 boards were graded 160, 120, 109 and 94...one of the weakest set of 'bottom 4 players' in Division 1.
Hitman HURN-ey
23rd Oct 18
Monty Div 3
Tonight On this Magic Monday I was on Bd2 Black again and played C41: Philidor's defence and just like the last Match I was first to finish
However where I had Blundered a piece last Thursday, my Opponent did tonight, and showing no fight to the Death ....Resigned.........
1. e4 e5 2. Nf3 d6 3. d4 exd4 4. Nxd4 Be7 5. Nc3 Nf6 6. Bg5 Bd7 7. Bc4 h6 8. Bh4 Nc6 9. Nf3 a6 10. O-O b5 11. Bd3 Nb4 12. Re1 Nxd3 13. cxd3 O-O
14. h3 Nh7 15. Bxe7 Qxe7 16. e5 Bc6 17. d4 Ng5 18. d5 Bd7 19. exd6 Qxd6 20. Nxg5 hxg5 21. Qf3 Qg6 22. Qg3 Rac8 23. Ne4 f6 24. Nc5 Rfd8 25. Nxa6 f5 26. Qd3 Qxa6
1-0 to Monty
before I had finished Domino on Bd1 was offered a draw , he surprised me and played on, looking at it he did look to have the edge on the king side with three Vs two pawns.... queens and a rook a piece were off
Tricky on Bd3 must of done some behind the scenes dealings which must of gone something like I will not take if you don't a draw was agreed with 16 Pawns forming a grid lock Barrier that no one was prepared to Crack...
1½-½ to Monty
Invincible, on Bd4 as Black won a piece early on however John Fryer dug in and the game rumbled on for some time,
2 cars on Bd6 was playing David Short and for some unknown reason seemed to be making hard work of what looked like good position, I would say two thirds of the board was in his control, However,
Time was well down and not helped by trips outside for a Puff when it was his go,
Killa on Bd5 was playing Fred Biles who clearly knew what he was doing despite having a 103 grade, this game was last to finish.... After I got back from a trip down to the bar I noticed Bd1 had finished with the players absent,
the card had been filled in and the refusal to take the draw offer had backfired on Domino and the match was now all square..
1½ - 1½
Invincible soon restored the lead and is proving to be everyone's favorite reserve
2½ - 1½ to Monty
so just Killa and 2 cars left, Killa looked to be in trouble with a gaggle of Pawns making a run for it,
2 cars Black was down to 1½ minutes Vs 15 however he had a cheeky attempt of mate, first sac the rook take back with king then if his opponent does not move his king mate with the bishop
Cheeky Mushroom waited until the clock was below 30 seconds as if he hadn't seen it... Game set and Match well done that man
3½ - 1½ to Monty
Fred Biles popped and blew his end game... Killa managed to stop the pawn gaggle and graciously offered a draw which was accepted
4 -2 Monty
Well done Team a good night for the Black Bits all three won.
| | | | | | |
| --- | --- | --- | --- | --- | --- |
| 1 (W) | 136B (136) | N | 0 - 1 | N | 138C (138) |
| 2 (B) | 135A (135) | S | 1 - 0 | N | 130A (130) |
| 3 (W) | 131B (131) | N | ½ - ½ | B | 126A (126) |
| 4 (B) | 050L (0) | N | 1 - 0 | N | 125B (125) |
| 5 (W) | 126A (126) | N | ½ - ½ | N | 103A (103) |
| 6 (B) | 126D (126) | N | 1 - 0 | N | 102C (102) |
| Total | 704 | | 4 - 2 | Total | 724 |

$
22nd Oct  18
Bees Sting
 Div 1
As Sutton Coldfield, the mighty league champions watched Man City thrash Burnley at the weekend, they must have been rubbing their hands with glee, relishing a similar result against the Burnley of the Bham div 1, Cory's B team...
We were at full 'strength' so just in case Sutton brought along a 260 graded player!!! maybe the strongest rated player ever in the league??
Adam was due to play him, but was nowhere to be seen. To be charitable, we'll say he lost on time in an even position against a 2580 fide rated player... 0-1 and a bad start...
other games were starting evenly - the white games - we and Anne-Marie were grafting, but the three playing black had none of this and were all out gunning for blood...
Dave 'Destroyer' Dunn then had a moment that would change the course of the match, maybe world history... In a blocked position, he performed the deepest positional exchange sacrifice ever seen in chess. He gave up a rook to get the bishop pair and a good looking knight, realising that about 20 moves later his opponent would run out of play and give the exchange back and leave him with a pawn up. Dave muttersed sth about a blunder and a swindle, but I assume this is just modesty... 1-1 Marcus 'Professor of Positions' Walsh decided to push Keith Escott off the board giving up his whole queenside to get some lines open - his heavy pieces and a dark squared bishop strafing in did the rest and Keith's fortifications broke down. 2-1.. A-MJ meanwhile was carefully nurturing a Walker Bishop - which for the uninitiated is a totally blocked in bishop that just sits and waits and comes out after the time control to win the match... trade mark of TW...
Cory has disregarding his q-side and going for a hack v Stepanyan... not looking good...My game was boggy and positional - but he let me get a foot in generously giving me a light square bind on c4 and d5 whilst he had a dreadful bishop on g7...Cory succumbed to defeat to a 215 rated player, so no shame there - 2-2... My opponent started to run short of time and started to make errors after 3 hours of play - a couple of tactics to win pawns and he picked up his queen realizing moving it to take my offered knight meant hisr rook went... mate in 2 followed. 3-2!!!!! miracle is on!! A-MJ was in a titanic struggle against former club legend, Ali 'G' . She was now a piece up - and you guessed it, that trapped Walker Bishop was coming to life... sitting on c2 for 2 1/2 hours waiting for its chance to shine. Neither player had much time left when Ali took a (boiling) hot pawn and wham bam, q goes to g6 supported by the legendary Walker Bishop - winning the game and the match for us!!! 4-2 against the might league champs!!! all four bottom boards won - they were missing 2 of their 200s and a Welsh junior champ, but we were massively outgraded still, so this is a mini-miracle and will help the plan to stay up! Can Captain Courageous Cory cajole his Caissa Crusaders for the challenge of Shirley and Wythall in two weeks time???
we shall see, but for now we sign off as Burnley 4 - 2 Man City...
Diamond
9th Oct 18
2A
It was a great evening at the club last night, with three teams in action. I won't steal anybody else's glory by commenting on SB vs Halesowen in Division 5 of the BDCL or SB vs Mercia in the Dudley League, but here's a quick summary of SB "A" vs table-topping Lichfield (four out of four so far) in Division 2 of the BDCL.
Lichfield captain Mike Mahar had phoned me before the match to say that they were travelling with only five players, so I was able to stand down our Board 6, Simon. With one point already in the bag, the teams lined up like this:
1 Malik, Faraz 164 vs Smith, John 154
2 Thomson, David 163 vs Giles, Alan 153
3 Ralph, Sean 162 vs Hulme, David 146
4 Emanuel, John L 168 (2012) vs Maher, Mike P 140
5 Lane, Tim A 161 vs Slobodyuk, Yuriy 130
6 Williams, Simon A vs Default
Sean, white on Bd 3, played his home-grown Closed-Sicilian-with-b3 system, but was unable to develop any initiative, and the game soon petered out to a draw.
My game on Bd 5 was a Catalan where I was able to meet my opponent's ...d5xc4 with b3xc4, giving me a central preponderance. Eventually I played d5 under favourable circumstances, and was about to go into a very promising ending when Black blundered.
Faraz, white in a Nimzowitsch Defence (1. e4 Nc6 2. Nc3 d6), quickly got a good attack going and won a pawn. For a long time this looked like another full point, but John Smith steered the position into a R+B+4P vs R+N+5P ending where the bishop was better than the knight. Eventually, running low on time, Faraz took the draw, leaving us 3-1 ahead.
On Board 4 John spent most of the evening on the back foot, but eventually wriggled out into a just-about-holdable R+Ps ending, which he just about held, thereby securing the match. From the post mortem comments it sounded like both players thought Mike had let John off the hook.
Last to finish was Tom-Tom, who had the luxury of being a piece up for most of the evening, though the position was so congested that it was hard to turn the material advantage into a win. The game went on until the very end of the evening, but the extra piece eventually told, and we had won the match by 4.5 to 1.5.
Lichfield remain top of the table (P5, W4, eight points) but we're second (P4, W3, D1, seven points). We have just one more match this year, then a further six after Christmas.
Cheers, TAL
4th Oct 18
Monty's Terrill Torture
Hi everyone it's very difficult to dress up a heavy defeat, so here go's ........... we got the Artillery over to Minworth to find…….
Odd Ball had loaded the tank with Paint, Moriarty had to many negative thoughts, Big Joe dropped his gun & Crapgame was all to Popular,
Basically we were out gunned although all boards looked very even at one point around 7.29........
I was last to finish and played 45 moves so I will settle for that... a sort of Queen's Gambit Declined Slav,
Well done to the Invincible one on Bd6 for preventing the White wash ........so we regroup and fight again...
Te1-8

3½

Sutton Coldfield-1

5½

4

South Birmingham-3

210

Stepanyan, Henrik

1

0

Woollaston, Alan T

135

169

Ali, Golam S

1

0

Walker, Terry W

131

172

Escott, Keith L

1

0

Stockhall, Derek A

136

175

Guha, Chirag

1

0

Little, Matthew

126

170

Owen, Neil J

1

0

Killarney, Simon A

126

126

Oliver, Peter JR

½

½

Thompson, Matt

~
$
27th Sept 18
Div 3
Good Evening Ladies & Gentlemen,
Actually, I tell a lie. It is morning now. Here are the scores on the doors for 'Monty Rolls Over Boldmere.'
Or SB Div 3 side begins their BDCL campaign away to Boldmere & St. Michael for those who remain uninitiated.
I arrive at the appointed time - 6:45 at 2 Car's place. 2 Cars is still in his smoking jacket, most relaxed as always, and tucking into some dinner. No sign of Domino. What's going on? It's all cool, chill man - Domino is late but on his way. He is in Digbeth about to catch the No 2. Besides, 2 Cars was a former Boldmere player, he knows exactly where the football club is and is super confident we can get there on time - Domino just has to get to us in the next 20.
So we busy ourselves watching Plasteed body-popping, locking, electric boogaloo extraordinaire. And song of the week from 'Freddie Flair Pants' from Glasgow - I'm sure that is completely wrong and 2 Cars will have to correct me.
Anyroad up, Domino eventually gets off the bus and we watch him start walking in the opposite direction away from us. Doh! We call him back. In the car I query Domino on why he is late - trying to get back from Dudley at 6:00 pm to meet us at 6:45. And what's so interesting in Dudley anyway, what's keeping you? At this point Domino mumbles something so indistinct and so noncommittal that it is obvious he has a romantic interest on the go in Dudley and he has been with her all day and didn't want to come back! All confirmed in my book by the fact that he wouldn't tell us her name either.
It was a strange evening. Many subtle and magical forces seemed to be at work. Captain Singerman will have to complete my report with the actual line up of forces in terms of who played who - but for now you'll just have to bear with me.
First to finish was me on board 4. I can tell you that I played Steve Fryer and he likes the Caro-Cann with Black. I like to face the Caro-Cann with White and I like the panov-botvinnik attack. Mr Fryer apparently likes to play 5...Bc8-f5 which I have never seen before. I responded with 6.Qd1-b3 and I like that move. And there is nothing wrong with it. However, Mr Fryer responds with 6...Ktb8-c6 - which isn't really a problem. But I convince myself that actually I might be in some trouble here - so I see a ghost and fail to calculate correctly and it goes rapidly down hill from here. In fact it was an agonizing, super slow-motion car crash over the next 11 moves until we arrive at the final position and I am checkmated.
So first up out of the board there was nothing for me to do but watch the other games unfold. I didn't see any of the openings. So first of all I pick up Kitty on board 6. Kitty had an extra pawn on the queenside, R & B. His opponent R & Kt. A while later the rooks had been exchanged. A while later the remaining minor pieces. Kitty won in classical style. The next time I saw the game his queenside majority had advanced a little, as had his King and he had the opposition. The extra pawn was gonna' get through to promotion. SB win.
Domino was on 2. I can't remember much of this one. Things seemed to be reducing down to a drawish pawn ending. And draw it was.
When I picked up the game of 2 Cars he was just about to win a pawn on the queenside. Everything else was about equal with both players - 2 Cars was playing Kevin Spillaine - having double knights remaining. Things looked promising but after an exchange of one pair of knights black's play seemed to stall. Pushing the extra pawn through on the queenside wasn't going to be easy and then Spillaine started huffing and puffing - he was very short of time - and to his credit created play on the opposite wing to produce his own passed h pawn. At the end both players had to tie up their knights in defensive roles. The only thing that swung it was that 2 Cars had a more advanced king. SB win.
Tricky Terry on 3 played a great game. When I joined it Terry had a solid position. Doubled Rooks on the c file and a 'Tricky' knight floating around always threatening to jump into the heart of the enemy camp. Sure enough, at my next glance Terry had caught Q & R in a knight fork and won the exchange. Next, Terry's doubled Rooks were transformed into pigs on the 7th and things looked grim for his opponent. It still was a tense affair though. Both players were a little short on time and there was still some work to do. Terry's opponent tried to get his Queen and then Rook into counter-play area but Tricky and the pigs didn't allow. After some forced exchanges Tricky activated his king and it was gonna be a winning endgame. SB win.
$ingerman on 1. Playing Mike Biddle. Right from where I first saw it this looked a loss for Singerman. Biddle had 2 extra pawns on the queenside. He had also buried a pawn-supported Bishop on d6 in the heart of Singerman's position preventing castling. With the 2 cars game going a bit south on board 5 and Singerman seemingly going further south things didn't look good for the team as a whole. But as usual - Singerman sees the bright side of every situation and played it like he had never intended castling and proceeded to push the kingside pawns and open the files there. Mr Biddle was very short of time and was visibly wobbling under the pressure. He still had a winning position but Singerman's counter-play was beginning to pick up momentum just at the wrong time for him. And then suddenly out of nowhere a massive knight fork on the Rooks appears for Singerman. It was one of those things that you see immediately just with a casual glance at a board in passing - but somehow the players - deep into the game and deep into the position can miss - it was such an occasion. Biddle didn't see it coming and Singerman didn't spot it and capitalize. No matter, it was probably the last scare of the night that Mr Biddle wanted to experience and a moment or 2 later - even though his queenside pawns were sure to cause big trouble - he offered Singerman the draw. So after looking like a loss for much of the evening SB finished 4 - Boldmere 2. Yay!
We retired to the bar to celebrate. Wonderful result team. Thank you and that's it. This report is already long enough!
Signing off - K
27th Sept 18
Div 2
The 2A side was involved in another unbearably tense finish last night, at home to West Bromwich.
The sides lined up like this:
1. Malik, Faraz (164) vs Walker, Nicholas A (188)
2. Thomson, David (163) vs Quraishi, Shahab WA (174)
3. Ralph, Sean (162) vs Crump, John E (160)
4. Emanuel, John L (168/2012) vs Davies, Dave M (159)
5. Lane, Tim A (161) vs Pincher, Jonathan P (137)
6. Williams, Simon A (152) vs Wesson, Geoffrey C (123)
First to finish was Simon who, playing Black, ran into a little home cooking (1. e4 e5; 2. d4 exd4; 3. Bc4?!) and never quite seemed to equalize, despite most of the pieces being exchanged. Eventually a pawn fell off, but worse was to follow. Simon was playing his first game at the new "all moves in 80 minutes with a ten-second increment" time limit, a fact overlooked by his inept captain, who had neglected to mention the rule change. You can guess the rest – well past the 30-move mark, and expecting a second allowance of time to be added, Simon let his clock run down to zero and lost on time. First blood to West Bromwich. Faraz had a tough task on top board, playing White against Nick Walker. Faraz fianchettoed his KB and castled early, and Walker chose to leave his king in the centre and open the h-file. He also got some pressure on the c5-to-g1 diagonal. I didn't see the end of this, but it didn't go our way. Two-nil to the bad guys.Tom-Tom was also under pressure on Board 2, and at one point looked close to defeat, but his opponent mistakenly went into an opposite-colour bishop ending that, despite a two-pawn advantage, couldn't be won. 2½-each. John played a Winawer with 6. ... Qc7 on Board 4. Both sides castled on the K-side, and White built up some steady pressure. John had to play … c5-c4 to keep White's bishop off d3, and … f6-f5 to avoid an f5 break, leaving his own white-square bishop as a mere spectator. White opened his g-file and trebled his major pieces, and defeat looked imminent. The spectator bishop grabbed a pawn on a4 and another on c2, and then White's attack broke through, his queen arriving on g6 with a nasty check. Hang on though… overlooked by White, g6 was defended by the spectator bishop on c2. Good-bye queen, and we're back in the match at 2½–1½! On Board 5 I had useful positional pressure for most of the evening and, despite some inaccuracies towards the end of the night (Fritz tells me I overlooked a mate in seven – I hate it when that happens!), eventually managed a full point too. Match level. So we all clustered round Ralph vs Crump on Board 3. I hadn't seen much of this game (Closed Sicilian I suspect) but by this time it had resolved to K+R+N+P vs K+R. Trouble was, the enemy K+R were deep in Sean's position and Sean had less than a minute left on his clock. If he dropped the last pawn a draw was inevitable. At one point I thought Sean had forgotten about the clock, as he let it run down to having just four seconds left, but I needn't have worried – a flurry of checks built up enough time to allow me to start breathing again and drove Black's king offside, at which point John Crump decided he had seen enough, and we had won the match!
Next week a combined 2A/2B sides plays WQ2 in the Terrill Trophy, and then league action resumes on Monday 8 October, when we're at home to early-season table-toppers Lichfield (P3, W3).
Cheers,
TAL.
20th Sept 18
WQ2 Vs 2A (aka Talent Squad)
Evening all,
Thursday night saw South Birmingham's 2A side hosted by Warley Quinborne in what turned out to be a very tense and close match.
The teams lined up as follows:
1 Fahy, John F (154) vs Malik, Faraz (164)
2 Turner, Jon (150) vs Thomson, David (163)
3 Jeffs, David (140) vs Ralph, Sean (162)
4 Moxley, Stephen (136) vs Emanuel, John L (u/g)
5 Maybury, Philip C (129) vs Lane, Tim A (161)
6 Pakenham, John H (100) vs Lo, Matthew (125)
First to finish, playing white in a Philidor Defence, was Matthew Lo. Matthew withstood a useful-looking attack, won a pawn, and simplified to a won king-and-pawn ending. I was looking forward to writing the first "1" on the scorecard when Matthew sadly played a terrible blunder and plucked defeat from the jaws of victory.
Tom-Tom was also white, against Jon Turner's Scandinavian Defence. I didn't see too much of this but got a summary from David on the way home. Faced with the loss of a pawn he decided to give up the exchange instead, and got a powerful bishop on the long black-squared diagonal in compensation. Eventually the pressure got too much for the defender and white won a rook and the game.
Sean was black in a Dutch/Nimzo hybrid. Most of the pawns remained on the board for most of the evening and, although Sean did his best to drum up some play, the position remained stodgy and level. Eventually peace was declared, leaving the match level at 1½-1½.
The other three games all went down to the wire.
Faraz was black in a Stonewall. I only saw snippets of this, but Faraz seemed to be under some pressure early on, before starting to turn things round and developing a promising initiative. I decided we had no worse than a draw there.
On board 4, John played 2. d3 against the French. White normally fianchettoes his KB in these systems, but John got quick development and his bishop, unusually, ended up on d3. After a dozen or so moves, John was tempted into a Bxh7+, Kxh7, Ng5+, Kg8 sacrifice. His queen went to c2 to threaten mate on h7. The problem was, Black could get a knight to f6 to defend the mate. John tried to get a rook to e3 and then f3 to threaten the knight, but it all looked a bit slow. This one looked like a draw at best.
Playing black on board 5, my own game started 1. Nf3 d6; 2. g3 e5. I managed to build up some pressure in the middle-game and eventually won a pawn, but I made a mistaken swap of a pair of minor pieces and ended up with 2R and a bad bishop against 2R and a good knight. I was desperately trying to find a winning plan, but eventually my extra pawn dropped off and, behind on the clock, I decided to bale out with a draw. Two-all!
By now Faraz had won a couple of pawns and both sides were bashing out the moves in a R+P ending with a minute or so left on each clock (we were playing with 10-second increments). Faraz avoided a couple of traps and eventually promoted a pawn. 3-2 to SB!
On board 4 John was on the ropes, a piece down, with black pawns advancing to e4 and f4. A mistimed ...f3 allowed him to grab a pawn back, but the position got wildly tactical, with pins, counter-pins, and threats of discovered check, and just seconds left on each clock. Suddenly I saw that John was losing his queen for (I thought) a rook. Game over? Match drawn? Not yet! Either I mis-read the position, or black misplayed it (take your pick), and suddenly the dust cleared and John had 2R vs Q and was fractionally ahead on time. Black had an extra pawn or two on the Q-side and could have tried to use them to force a win, but at ten seconds per move it would have been a tough ask, so he offered a truce, and we had won the match 3½-2½!
TAL
18th Sept 18
Dudley Double up at Mutual
Tonight the SB Dudley Div 2 and Div 3 took on Mutual Circle in a Tag team Dudley affair,
Captains Singerman & Windows done a bit of team sorting out in the car park to maximize the effect.
SBD2 Lined up Bd1 Invincible (AKA Mat Thompson), Bd2 Singerman, Bd3 2 Car Mats, Bd4 Killa,
SBD3 Lined up Bd1 Kitty, Bd2 Windows, Bd3 Brush, Bd 4 Persian Mat (lives on the Pershore Rd (AKA Mat Smith))
This was my Game in which I was White, my draw offer after playing 28.h6 was accepted, it seemed unclear at the time to how the dust would settle.
1. c4 e6 2. e4 Bc5 3. d4 Bb4+ 4. Nc3 Nc6 5. a3 Bxc3+ 6. bxc3 b6 7. Nf3 Nge7 8. Bd3 O-O 9. h4 Ba6 10. Be3 Na5 11. Nd2 d5 12. exd5 exd5 13. Qh5 Ng6 14. f4 Re8
15. Kf2 Nxc4 16. Nxc4 Bxc4 17. Bc2 Qf6 18. Rae1 h6 19. Qg4 c5 20. h5 cxd4 21. cxd4 Ne7 22. Qf3 Nf5 23. Bxf5 Qxf5 24. g4 Qc2+ 25. Kg3 Re4 26. g5 hxg5 27. fxg5 Rae8 28. h6
After 8 Boards of Chess the scores read in our Overwhelming Favour MC 1½ - 6½ SB
With three Mats amongst our players you could say we hit them with the Carpet shop.
SBD2 145max
Matt Trig (145) 0 Invincible Mat (Ug) 1
Mike Hollier (135) ½ Singerman     (135)  ½
Richard Leaper (133) ½ 2 Car Mats (126)   ½
Chris Pitt (121) ½ Killa (126)      ½

SBD3 115max
Peter Hughes (99)     0 Kitty (102)     1
Shammas Tabraiz (85)   0 Windows (100)   1
Emile Paffard-Wray(74)  0 Brush (99)    1
Jan Trembecki (40)   0   Persian Mat (75)   1

Afterwards Five of us got on the Magic Carpet and rolled on to Adils Balti House …. EXCELLENT......
<![if !vml]>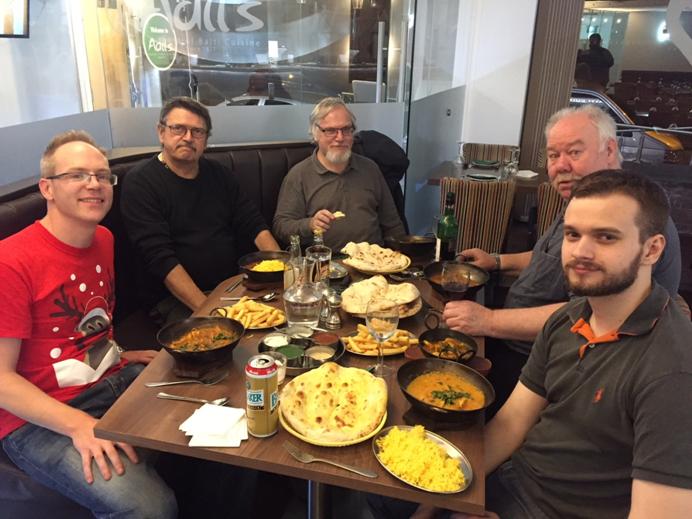 <![endif]>
$ingerman
15th September 18
Club Room Upgrade (CRU)
Hello Chess Players,
Yesterday (Friday), I arrived at the club at 9.00 a.m. to move all the stuff out of the analysis room ready for the arrival of the carpet fitter.
Windows arrived shortly afterwards to assist with anything that needed doing.
The carpet fitter arrived at 10.00 a.m. to fit the carpet and completed the task at 12.30 p.m.
After vacuuming the carpet, Windows and I then returned the tables and chairs to the room.
The bookcases and all the books have now been reinstalled.
Pictures have now been hung on all the walls. Finally finished at 5.00 p.m.
Work now completed and the room is ready for you to enjoy. I hope you like it?
Thanks go out to all those volunteers who did the work and the members who contributed financially.
Your combined effort made this possible.
Cheers,
Tricky
3rd Sept 18
1st BDCL Match 1A Vs 1B
Hello All,
Sorry this is a bit later than usual but on Monday the A team had a very tough match against our own B team. As I was playing, I didn't get to see much of other games but I will give a quick report of games. I was in the Elizabeth of York pub having a coffee and I always check for e-mails in case of late messages from players that need to be acted upon.
About 6.45-6.50pm, Neil sent a message saying he was unwell....I went to club only 5 minutes away and Terry started ringing players and Singerman, who was just about to have his dinner (What a star!), got to club for 7.30pm and was rewarded with a game against Richard Mycroft. I think it was 3 Knights and when I looked near the end, Richard was a rook up in the endgame and the first to finish. This might have been planned by Singerman to get back for his dinner, His match-fixing case comes up on Monday!!! ha-ha......
Jon Swindells won on the black side of a Ruy Lopez against Ann-Marie James and John Pitcher had an exciting type of French Defence with Cory Hazlehurst but as Cory plays the Caro-Kann, he probably played...c6 and ...c5 to get to this type of position. Jon's King was in the centre on d or e2 but Cory at some point sacrificed a rook or two. Jon won the game!
I was on the black-side of a Kings-Indian Yugoslav against Dave Dunn....The game was tight for the first 20 odd moves but a few mistakes on my part and good play by Dave won him the game. He finished with a nice combination!
Robert Glass lost against Matt Thompson in a Nimzo-Indian in which Matts Queen and Bishop were stronger than Rob's Queen and Knight...Rob sacrificed his knight but gained nothing from it.
3-2 up and James Hanley v M. Walsh was very nicely poised....I think James was a pawn up in a Queen and minor piece endgame where he had to be careful of dark square weaknesses around his king. He played a few checks and reached a position where Marcus's king would have had to move to the same rank as the queen which would have been lost next move 4-2 Well done team!!
Hitman.
29th August 18
And so it begins …….Again
Pre season Friendly Match
The 32nd annual "Friendly" match between Olton and South Birmingham took place on Wednesday 29 August 2018 at our club room.
This year the match took place over 18 boards (originally 19, but my opponent defaulted). Result therefore not counted in line up.
With our top ten graded players not available to play in the match, it was difficult to field a strong team. It was thought based on Olton's team last year
that this could be our year for defeat.
At the last minute, players from the "old guard" in the form of David Dunn and Martin Smyth came to the rescue to strengthen our team.
Olton were without their usual top board (Phil Holt) which also helped us.
Members from six of our seven teams played in the match and represented our club.
I expected to get most of our points from the bottom boards, where we have a lot of under graded talent.
They did not disappoint. More surprisingly, look at the top 4 boards.
The first player to finish was new member Kavin who won his game fairly quickly and opened the score in our favour.
Results continued to go our way throughout the evening giving us our 19th successive victory!
1. Neil Clarke 168 1- 0 Alan Lloyd   194
2. David Dunn 166 1 - 0 Mark Cundy   171
3. Sean Ralph 162 1 - 0 Richard Smith   160
4. Tim Lane 161 1 - 0 R. Liszewski    154
5. Martin Smyth 153 ½ - ½ Rch. Reynolds    150
6. Rob Glass 153 0 - 1 Rob. reynolds    150
7. Imogen Dicen 141 ½ - ½ Rob. Wallman     147
8. Derek Stockhall 136 ½ - ½ John Freeman    146
9. Alan Woollaston 135 ½ - ½ Richard Evans 143
10. Simon Kilarney 126 1 - 0  Thomas Evans Jr  129
11. Mat Little 126 1 - 0 John Asbury   126
12. Mat Thompson u/g ½ - ½ Frank Jimenez   121
13. Roy Gough 117 ½ - ½ Jim Gillespie     116
14. Paul Heeney 107 0 - 1 David Reeves     111
15. Derek Green 101 1 - 0 Tom Evans Sr 93
16. Joe Kadar 99 1 - 0 John Clulee 68
17. Kavin Selvaraj u/g 1 - 0 I.Mahmoud 53
18. Elis Dicen 92 1 - 0 M.Mahmoud   u/g
Total 13 - 5
Tricky
29th June 18
The end of another Season ………Another Curry night
<![if !vml]>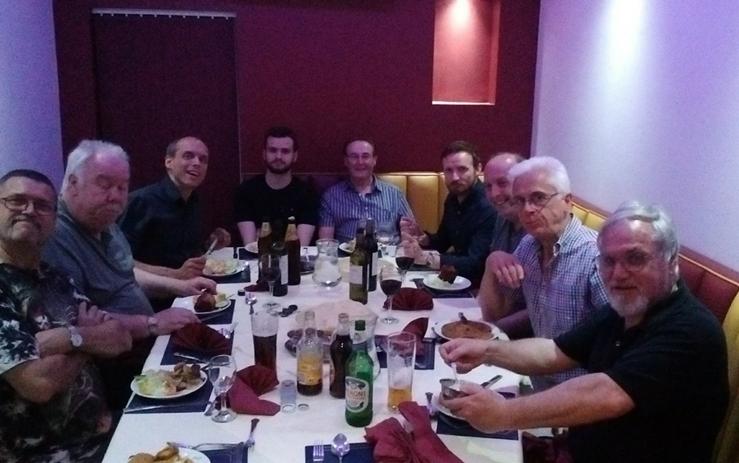 <![endif]>
The Diwan Balti Restaurant have now built us our own section and again TOP MARKS for service and Food.
This Picture was taken by The Brush, Kitty nodding off as usual…
21st June 18
Second Trophy of 2018-19 season
SBCC 480max summer league Champions,
A total of eight players helped the team to achieve this with Paul Heeney AKA Nurse scoring 5/6
It has to be said a large amount of gratitude is owed to Solihull for getting their sums wrong when adding up grades.
Well done
President
480

P

W

D

L

F

A

Pts

SP

MP

IM

10

4

5

1

25

15

16

0

0

0

10

5

2

3

25

15

15

0

0

0

10

5

3

2

23

17

15

0

0

0

10

2

3

5

17

23

9

0

0

0

10

3

3

4

17½

22½

10

0

0

0

10

2

2

6

12½

27½

5

2

0

0
21st June 18
First Trophy of 2018-19 season
SBCC win a 5½ - 2½ aggregate victory over Warley Quinborne to become 400max summer league Champions,
A total of ten players helped the team to achieve this but the most outstanding performances were achieved by new members
 Mat Thompson who scored 6/6 and Kavin Selvaraj who scored 5/6. Well done to both of them.
Terry
480

Team

P

W

D

L

F

A

Pts

SP

MP

IM

10

8

1

1

29

11

21

0

0

0

10

7

2

1

29

11

20

0

0

0

8

4

1

3

16

16

9

2

4

0

8

2

2

4

15½

16½

7

0

0

0

8

2

0

6

12

18

5

0

0

0

8

0

0

8

½

29½

-2

2

2

0
20th June 18
Summer Programme of events 2018
A programme of special events has been arranged for Wednesdays as follows:
4 July                     5 minute tournament
11 July                    Lightning Tournament (10 seconds per move) 
18 July                   10 minute tournament
25 July                    Kreigspiel and Four-handed chess
1 August                10 –minute tournament (set opening: Caro Kann)
8 August                5-minute tournament
15 August              Lightning tournament (10 seconds per move)
22 August              Simultaneous Display by John Pitcher
29 August              Annual "Friendly" match against Olton Chess Club
 On Monday 3 September the opening night of 2018/19 season starts with the first match when our 1A team will be playing against our 1B team.
Events will start promptly at 7.30 p.m.
Please try and be at the club by 7.20 p.m. if you wish to compete.
Some of these events are very popular and late arrivals may be unable to complete their games in the available time.
16th June 18
Club Room Upgrade (CRU)
The story so far -
Last week we left you with Miracle Man, bloody but unbowed and wearing his underpants outside his other garments like a proper superhero, hanging by
his fingernails over a dark pit full of ravenous Miracle Man eaters.
Now Read On...

During the week - Killer came and did required painting touch-ups.
Terry came and hung new curtains. Main room emptied of furniture on Wed evening.

Windows & kitty came in 10:00am on Friday to oversee carpet laying and finish window slats and other little jobs.
Carpet men laid new carpet. Finished at midday. Expected about an hours work after carpet men finished.
Turned into an epic with door problems, problems with new chairs etc - finished at nearly 6:00pm !

Note - Barman Bob will be seeing about the gas pipe. We not to touch it. Kitty will arrange 'weather' deflectors outside windows to protect against
driving rain and fit PADSS (ran out of time).
The 'bottom line' is : The club room main decorating project is essentially
completed and the room ready for use again.

regards kitty
That's All Folks ! Asta La Vista Baby, Sayonara etc. etc.
10th June 18
Club Room Upgrade (CRU)
Dear Alice et al
just to be clear...they are not 'window flaps' !!!
- they are our new 'High Tech Air Conditioning System' (H-TACS) with
Bi-Lateral Individual Climate Control (BLICC)
OK ??
 fyi -
Alice had purchased and bought along exactly the same 'H_TACS securing kit' as I had, that morning in another place, almost bought then rejected on
price grounds at B&Q. He paid (PoundstretcherLand Shop) less than half wot I would have been charged. And, because he's a good egg, he doesn't want any
money for it. Nor for the five million screws he put in the squeaky boards. Then everyone left. The painting done. (Although Simon will pop in to do a
few touch-ups during the week. He  told me he was good at that sort of thing). The room looks so much better now after the cleaning & painting
which was by far the bulk of the work and much thanks are due to the painting team, including Nursey who battled with his near terminal vertigo
problem at the top of the ladders on Saturday!, so abley led by our own expert Joe.  Members have helped with their free labour and expertise, ideas
aplenty (solicited and unsolicited!) and several with free donations of tools/materials to get this job done for as little cost to the club as possible.
 A true team effort.
Tim & kitty decided that the addition of a Personnel Anti-Defenestration Safety System (PADSS) would now be sensible. This will consist of a strip of
wood going across halfway up the each window since they were now so clean after little Matt's deep cleaning exploits that you can now, unexpectedly,
actually see through them almost as if they weren't there. Those green tinges we could previously discern through the windows have resolved
themselves into trees ! While many shops and businesses put stickers on their doors/windows to help prevent people walking into them, we had relied
on 30+ years of grime and grot. Until Matt happened ! Left alone I began the job of fitting the H-TACS securing kit but, just in
time, realised that the locations of some of the securing mechanisms depend upon the sealing strips. And we don't have them yet. But we will soon.
So, instead, I tidied up the analysis room a bit then left. The bottom line is that I will complete the H-TACS (& BLICC) and PADSS
installations later. (prob. Friday after the carpet men finish). The main difference between this 'bottom line' and one of Alice's 'bottom
lines' is that this one is near the end !
best regards
kitty
24th May 18
Clubs AGM took place tonight, with around 20 members in attendance.
A Small rise in Membership fees was agreed to cover rising costs of ECF membership plus Clock and Web fees.
Full membership which include ECF fees will now be £45 with half Membership being £35
Best Junior Award was won for the second year by Imogen Dicen
Potters Trophy for dedication to the cause was awarded to Joe Kadar
Nickers Trophy for the most Draws in a season was won by Rob Glass who amassed an incredible 25
Yours truly was elected as the annual Club President. No Russians Involved.
The End of Season Curry Night will be Friday June 29th
1st May 18
Div 1 Play off<![if !vml]>

<![endif]> <![if !vml]>

<![endif]><![if !vml]>

<![endif]><![if !vml]>

<![endif]><![if !vml]>

<![endif]><![if !vml]>

<![endif]><![if !vml]>

<![endif]><![if !vml]>

<![endif]><![if !vml]>

<![endif]><![if !vml]>

<![endif]><![if !vml]>

<![endif]><![if !vml]>

<![endif]><![if !vml]>

<![endif]><![if !vml]>

<![endif]>
One-A beat Solihull in a play off for the BDCL Runners up Trophy, Since 2000 this is the sixth runners up win to add to the 8 Championship Titles. Making 14 top two finish's in the last 18 years
29th April 18
Summer League
SBCC have Entered all four Sections of the BDCL Summer Rapid play League, Two teams in the open section and a team in 560max, 480max and 400max sections
26th April 18
Club Room Upgrade (CRU)
Chess players,
Many thanks to those of you who have offered to help out with the decorating party. This will take place on the earlier of the two weekends originally proposed, namely 9 & 10 June.
Kitty the Property Developer and Joe the Brush have been working a little magic to broaden the scope of the project. As a result of their planning and arm-twisting, we have a number of pieces of good news:
The All Services Club is going to donate towards the cost of the work. Thanks are due to Joe the Manager (normally to be found at the far end of the bar).
They are also going to call in

favors

' from a plasterer and a painter to repair and paint the ceiling – less work for us!

We can get sixteen new chairs from downstairs...

... and they are also going to rustle up a skip, so we can get rid of the broken green chairs (and anything else that surplus to requirements)

Alice is going to fix all the squeaky floorboards.

There's the possibility of getting our hands on some low-cost carpet – to be confirmed.

Terry can get cheap curtains.
23 April 18
Dudley 1 Champions <![if !vml]>

<![endif]>
SB Dudley 1 became champions after putting Sutton Coldfield to the sword with a great ½ -3½ Away victory
With one game still to play SB have only lost one board from 20 played
SB Dudley 1 Have emulated SB Dudley 2 & SB Dudley 3 Teams by winning the division at the first attempt
SBCC can now boast to winning FIVE division titles in four Seasons
2018…..Div 1 & Div 3
2017.....Div 3 (Div 2 lost out on Board count)
2016.....Div 2
2015…..Div 2
22nd April 18
Ârchive Section
The Ârchive Section now contains BDCL Match records which were mixed in with club history,
Dudley, Cannock & Summer League, Plus…. The Annual "Friendly" Match records with Olton Chess
17th April 18
Minnie Mouse
Elis Dicen (6) AKA Minnie Mouse younger sister of Imogen (912) won her Second Game in five days.
Elis After a great Debut win for MNFour Thursday against a WQ….108 on Board six. Added another win Monday, this time for MNFive by beating her board 5 opponent who was a former Ky....131
Great thanks to the Dicen Family for giving time and allowing The Girls to be part of our club………… The futures Bright, the futures Dicen Powered.
11th April 18
Dudley 3 Champions <![if !vml]>

<![endif]>
SB Dudley 3 became champions for the second year running after a 4 -0 win against Mercia
SB have only lost four boards from 24 played
Excellent Performance from Scott Leadbetter AKA Geog, finished 100% 6 from 6 with Paul Heeney, AKA Nurse gaining 4½ from 5……….
13th March 18
BDCL 2018 10 second buzzer Lightning Tournament
South Birmingham Entered a Team in each of the three sections of six rounds Lightning Tournament
Section A Team Jon Swindells. Cory Hazelhurst. Adam Szelc. Sean Ralph. Tim Lane. Finished 2nd winning 14½ out of 24 Boards
Section B Team Rob Glass. Terry Walker. Derek Stockhall. Simon Killarney. Finished 1st winning 12½ out of 24 Boards
Section C Team Derek Green. Imogen Dicen. Matt Little. Paul Heeney. Elis Dicen. Finished 1st winning 15½ out of 24 Boards
Elis Dicen age 6 won Three out of Three games played.
Section A

№

Teams

SC-A

SB-A

Olt-A

Sol-A

MC-A

Wes-A

Totals

Finished

Suton Coldfield A     Section A Winners

1

SC-A

3

3

2½

4

4

16½

1st

2

SB-A

1